The Apple AirPods, slightly behind schedule, have arrived in stores. But someone reports charging problems
The AirPods, Apple's wireless headphones, were expected to start in late October, but arrived on shelves in the second week of December. Rumors report that behind the delay were manufacturing issues that appear to have been resolved.
Already, the AirPods in use don't offer stratospheric battery life - maximum of five hours on a single charge - while the case's battery should provide 24 hours of battery life for charging the earbuds. Some users have complained that the case doesn't charge or drains very quickly. C'è chi sostiene che il malfunzionamento sia circoscritto solo a un ristretto numero di lotti distribuiti, i primi per l'esattezza, ed Apple comunque li sostituisce senza problemi presso gli Store. Ma, nel frattempo, sono spuntati dei brevetti di altri AirPods sul web. Potrebbe trattarsi dei modelli futuri?
Brevettato nuovo modello di Apple AirPods
Mentre Tim Cook posta su Twitter il suo entusiasmo per l'enorme successo dei nuovi auricolari completamente wireless, saltano fuori dei brevetti di un modello di AirPods appena pubblicati dall'US Patent & Trademark Office che riguardano le cuffiette Apple. L'elemento che stona è la data: Apple li ha depositati nel secondo trimestre del 2016, quindi non è chiaro se si tratti di modelli "scartati" o registrati, magari, per una futura produzione. È un brevetto, quindi, da prendere con le pinze ma particolarmente interessante per tecnologia e design.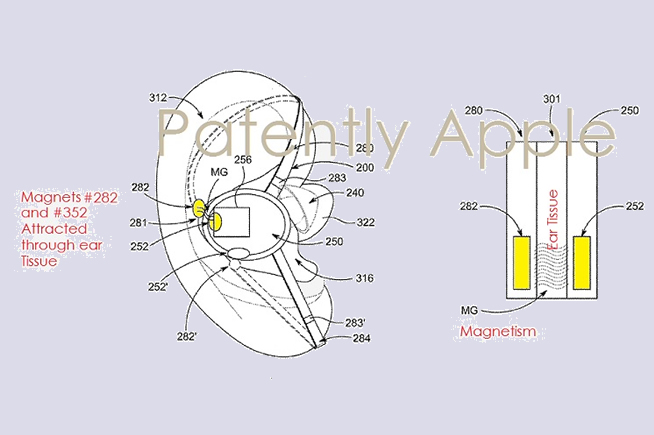 Fonte foto: Patently Apple
Il brevetto dei nuovi AirPods
Il primo elemento che salta all'occhio è la presenza di magneti inseriti nei ganci, due per auricolare, che avrebbero lo scopo di attrarsi per assicurare una tenuta perfetta nelle orecchie. Anche il design sembra molto diverso dai modelli attualmente in commercio e incompatibile con una ricarica tramite la custodia. Nei disegni si vedono auricolari con filo, anche se nel brevetto si fa un esplicito riferimento anche a una versione wireless. Sembrano quasi degli auricolari destinati ad attività da fitness più che da ascolto "normale". Sarà questa, forse, la prossima mossa di Apple: una versione di cuffie wireless per sportivi?