This week marks the 25th anniversary for Apple's first notebook and how better to celebrate it than by announcing the latest addition to the MacBook Pro family? Cupertino, during the recent Keynote, has also taken the opportunity to present new TV app - for Apple TV, iPhone and iPad - and a substantial update for Final Cut Pro X.
The latest news presented by Apple - in reality - are not many, but stands out among all the latest version of the famous family of MacBook Pro that introduces features worthy of note. It ticks off the innovative Touch Bar, the convenience of Touch ID, the best display on a Mac ever, high performance, better audio, super fast storage drives and Thunderbolt 3 connectivity, combined with a thinner and lighter design. The new TV app, for its part, offers a unified experience for accessing TV shows and movies from Apple TV, iPhone and iPad. Added to which is a major update to Final Cut Pro X to take full advantage of the new features introduced on the MacBook Pro.
MacBook Pro, the Touch Bar and Touch ID
The MacBook Pro is the thinnest and lightest model of the professional notebook family ever made by Apple, which, among other things, has equipped it with an innovative interface that replaces the traditional row of function keys with a Retina display Multi-Touch called Touch Bar. This touch-sensitive bar puts controls directly in contact with the user's fingers and adapts when using the operating system or applications such as Mail, Finder, Calendar, Numbers, GarageBand, Final Cut Pro X and many others, including third-party programs. Any practical examples? The Touch Bar shows Tabs and Favorites when Safari is in action, offers quick access to emoji in Messages, or even simplifies image editing and video search in Photos.
(taken from YouTube)
The appearance of the Touch Bar is accompanied by the introduction on the MacBook Pro, also, of the Touch ID sensor integrated into the power button: a feature that Apple users have already become familiar with on the latest iPhone and iPad. This is a biometric fingerprint reader that, at the same time, offers a useful security barrier for accessing the device, but also a faster mechanism for getting "doors opened". Once you've registered your credentials - that is, registered your fingerprint - Touch ID allows you to quickly unlock your Mac, switch user accounts to another, and make secure Apple Pay purchases on the web with a single tap. Touch ID riconosce il polpastrello del "padrone" a grazie all'utilizzo di sofisticati algoritmi e al secure element presente nel nuovo chip T1 di Apple.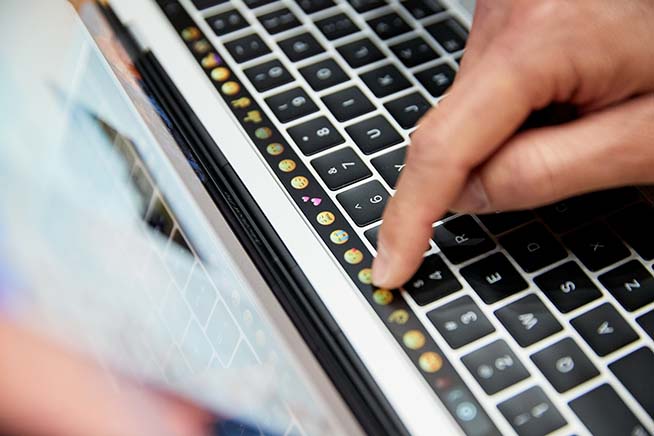 Fonte foto: Apple
La nuova Touch Bar con emoticons ed emoji
MacBook Pro: sottile, leggero ma ancora più potente
Apple ha riprogettato il design del suo gioiellino per renderlo ancora più sottile (uno spessore di soli 14,9 mm per il modello con display da 13″, e 15,5 mm per il fratello maggiore da 15″ – più leggero (rispettivamente 1,36 kg per il primo e 1,8kg per il secondo diminuendo, al contempo, anche il volume in entrambi casi di 200 grammi rispetto alla generazione precedente).
One of the strengths of the new family of MacBook Pro is undoubtedly the Retina display - 13 and 15 inches - even thinner (0.88 mm), but able to display images even more vivid and detailed than in the recent past. The Retina display of the new MacBook Pro, at 500 nits of brightness, increases, in addition, 67% the brightness and contrast, compared to the "old" models, and is also the first to support a wider range of colors. In addition to a 30% energy saving compared to before thanks to a larger pixel opening, a variable refresh rate and lower power LEDs.
(taken from YouTube)
Big news coming to the hardware compartment too. The new MacBook Pros are powered by Intel's sixth-generation processors - dual-core Core i5 with eDRAM, dual-core Core i7 with eDRAM and quad-core Core i7 - that deliver professional-grade processing while saving power. The 15-inch MacBook Pro, specifically, features discrete Radeon Pro graphics that deliver up to 2.3 times the performance of the previous generation, the 13-inch smaller brother comes with Intel Graphics Iris on board that is twice as fast as the previous technology. Both models feature SSDs with sequential read speeds at over 3 GBps and Thunderbolt 3 for data transfer, charging and twice the video bandwidth in a single port allowing users to drive a 5K display and power their MacBook Pro via a single cable.
Tra le altre caratteristiche, non vanno dimenticati, un Trackpad Force Touch più spazioso (46% più ampio sul MacBook Pro 13" e grande il doppio sul MacBook Pro 15), una digitazione più reattiva e confortevole sulla tastiera grazie a un meccanismo a farfalla di seconda generazione, un suono più forte e realistico tramite gli altoparlanti con il doppio della gamma dinamica e bassi migliorati, e il sistema MacOS Sierra con nuove funzioni come, per esempio, l'integrazione di Siri, Universal Clipboard, Apple Pay sul web e Foto.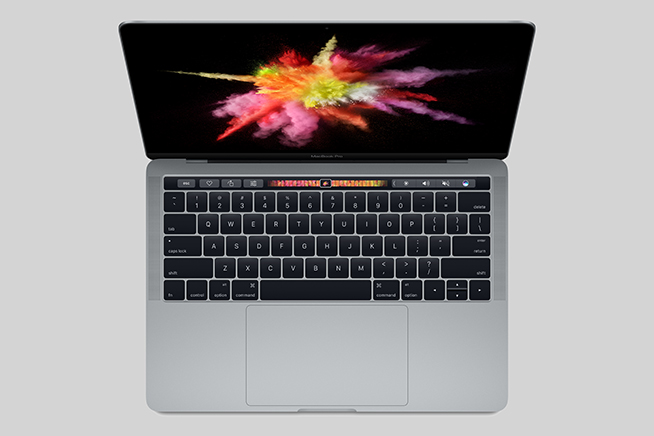 Fonte foto: Apple
MacBook Pro
MacBook Pro, prezzi e disponibilità
– Il prezzo del MacBook Pro 13" – con processore dual-core Intel Core i5 a 2.0 GHz with Turbo Boost speed up to 3.1 GHz, 8GB of memory and 256GB of flash storage - starts at 1,749 euros and is available now.
- The price of the MacBook Pro 13" equipped with Touch Bar and Touch ID sensor - with dual-core Intel Core i5 processor at 2.9 GHz with Turbo Boost speed up to 3.3 GHz, 8GB of memory and 256GB of flash storage - starts at 2,099 euros and will be on the market in two, maximum three weeks.
- The price of the 15" MacBook Pro equipped with Touch Bar and Touch ID sensor - with quad-core Intel Core i7 processor at 2.6 GHz with Turbo Boost speed up to 3.5 GHz, 16GB of memory and 256GB of flash storage - starts at 2.799 euros and will go on sale, again, in two, maximum three weeks.
Apple introduces a new TV app for Apple TV, iPhone and iPad
Apple's goal is to offer to provide a single place from which to access TV shows and movies, but from multiple devices: Apple TV, iPhone and iPad. Ed ecco spuntare una nuova applicazione che lo rende possibile, anche grazie allo zampino di una nuova funzionalità Siri che adesso semplifica la sintonizzare direttamente su notizie in tempo reale ed eventi sportivi su Apple TV. L'assistente intelligente di Apple, adesso, è a conoscenza degli eventi sportivi in diretta in tutte le app così gli utenti non devono fare altro che dire cose come, "quali partite si stanno giocando in questo momento?". Siri, se li conosce ulteriori dettagli sulle partite, è in grado di fornire risultati in tempo reale e portare gli spettatori direttamente alla diretta streaming all'interno dell'app che la sta trasmettendo. La nuova app TV di Apple, tra l'altro, rimane sempre sincronizzata in modo che quando gli utenti iniziano a guardarla su un dispositivo, possono semplicemente continuare sugli altri device Apple esattamente dal punto in cui avevano interrotto la visione.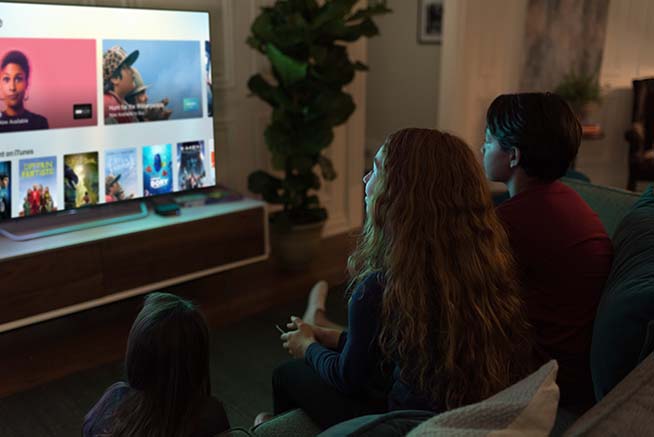 Fonte foto: Apple
Apple TV
Tra le altre caratteristiche dell'app TV ricordiamo la presenza di Watch Now – per vedere la propria collezione di programmi e film disponibili su iTunes e sulle app – Up Next – per visualizzare in ordine di preferenza tutti i contenuti affittati o acquistati di recente – Recommended – per ricevere suggerimenti su possibili programmi e film in linea con i "gusti" dell'utente – Library – per accedere all'intera collezione di film e programmi televisivi affittato o acquistato su iTunes – e infine lo Store in cui cercare qualcosa di nuovo da guardare. L'app TV sarà disponibile a dicembre come aggiornamenti software per i clienti Apple TV (4a generazione), iPhone e iPad negli Stati Uniti, mentre Live tune-in con Siri è già disponibile. Apple avverte che alcune funzionalità potrebbero non essere disponibili in tutte le regioni o in tutte le lingue. It's not yet clear when the TV app will arrive in Italy.
Final Cut Pro X winks at Touch Bar
The "made in Cupertino" video editing app has also been enhanced with new features for the Magnetic Timeline, support for the Touch Bar - now featured on the new MacBook Pro - and a redesigned interface to better support wide-color workflows. The new Magnetic Timeline allows users to have, at a glance, an overview of their movie with the possibility of a customizable layout and color coding of audio clips according to the type or "role" as, for example, dialogue, music and effects. But the most interesting new feature is definitely the support for the Touch Bar that replaces the traditional row of function keys on the keyboard with a Retina-quality Multi-Touch display that dynamically adapts to Final Cut Pro X, offering the user intuitive and context-sensitive controls. La Touch Bar, inoltre, visualizzerà una panoramica interattiva con codice colore di tutta la timeline in modo che gli utenti siano in grado di navigare all'interno dei proprio progetto con il semplice tocco di un dito. Apple, infine, anche rilasciato aggiornamenti per Motion e Compressor.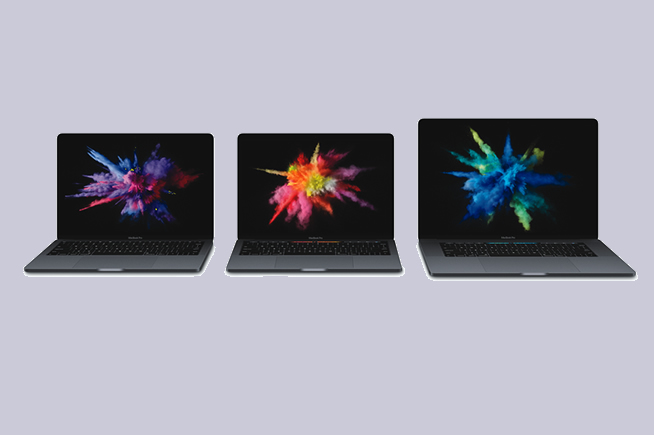 Fonte foto: Apple
Linea MacBook
Final Cut Pro 10.3 è già disponibile come aggiornamento gratuito sul Mac App Store per gli attuali utenti, e al prezzo di €299,99 euro per i nuovi. Anche gli update Motion 5.3 e Compressor 4.3 sono a costo zero per chi già li utilizza, o al prezzo di 49,99 euro ciascuno per i nuovi clienti.
(Il video in apertura è tratto da YouTube)
Alcuni video presenti in questa sezione sono stati presi da internet, quindi valutati di pubblico dominio. If the subjects present in these videos or the authors had something against the publication, just make a request for removal by sending an email to: [email protected]. We will provide to the cancellation of the video in the shortest time possible.