According to what a patent shows, the Californian company is planning to reposition the haptic feedback circuits on the strap
In the future, the Apple Watch could be thinner. That's what emerges from one of the California-based company's latest patents that the U.S. Patent and Trademark Office published last Thursday. The slimmer look would be obtained by moving some sensors of the wearable from the dial to the strap.
In particular, the "slimming" of the smartwatch would be possible by removing from the central unit the circuits of the haptic feedback, namely those electronic components that allow the device to vibrate when a user touches the display with a finger. So Apple would be ready once again to surprise by launching a new technology. And this is not the only novelty. La casa con sede a Cupertino infatti potrebbe anche decidere di cambiare la forma dei suoi wearable da rettangolare a circolare, come dimostra un altro brevetto reso pubblico alcune settimane fa sempre dall' U.S. Patent and Trademark Office.
Il nuovo smartwatch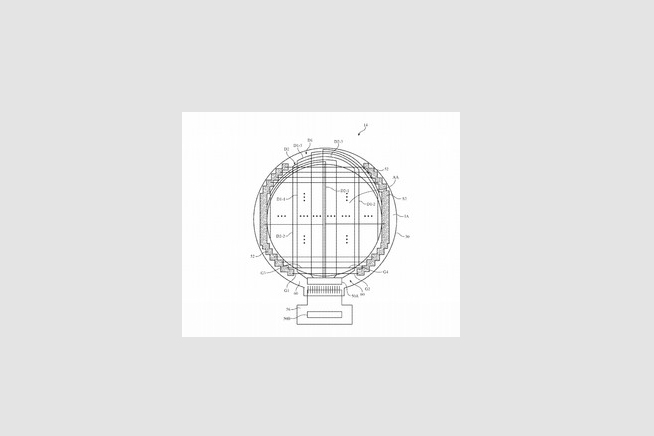 Fonte foto: Web
Per scoprire come sarà lo schermo del prossimo Apple Watch, premi sull'immagine
Secondo quanto si legge nel brevetto intitolato "Band Attachment Mechanism with Haptic Response" Apple avrebbe in mente di realizzare dei dispositivi elettronici con le componenti del feedback aptico integrati direttamente nella banda circolare. E uno di questi device potrebbe essere proprio un nuovo smartwatch dalle dimensioni più sottili. In fact, moving these haptic circuits from the dial to the wristband, the Cupertino-based company will be able to reshape the face of the smartwatch by inserting new sensors or by decreasing the thickness of the wearable. The new technology could take advantage of current wristbands and insert haptic feedback inside the clasp.
What the Apple Watch 3 will look like
This technology also has another advantage. Moving the sensor from the watch face to the strap means placing the haptic feedback on an area of the body that is significantly more sensitive to vibration. In this way, users would be able to better feel the tactile sensation that the sensor returns with each touch. However, it is good to make some clarifications. At the moment there are no indications that what is described in the patent will actually be implemented on the next series 3 of Apple smartwatches. It is in fact only a patent and as such could also remain. Moreover, if this technology will be realized the new smartwatch will almost certainly no longer work with the straps produced by other companies.