Fender introduces its first amplifier with WiFi and Bluetooth connection that, thanks to the Fender Tone app, allows you to download and edit presets
Fender Tone is a free app - for iOS and Android - that works in conjunction with the new Fender Mustang GT family of amplifiers and allows you to download and edit presets, share them or add them to a playlist to use during your live performances.
It's a huge library of guitar presets made available - first and foremost by Fender engineers - but also by the likes of Josh Adam Klinghoffer of the Red Hot Chili Peppers, Scott Ian of Anthrax and Gary Clark Jr. We're talking over 200 presets, plus more than 60 patterns and effects to choose from, and over 10,000 presets produced by the huge Mustang community worldwide. I preset vengono inviati all'amplificatore tramite Bluetooth. Tutto questo, senza, ovviamente, rinunciare ai controlli manuali per chi desidera continuare a usare i "vecchi" metodi.
Amplificatori hi-tech
L'applicazione Fender Tone – come accennato – è gratuita e compatibile con iOS e Android, il vero investimento è uno dei nuovi amplificatori per chitarra Mustang GT disponibili in tre versioni e tutti dotati di connessione WiFi e Bluetooth. Si parte dal modello base – Mustang GT 40 – da 40 Watt con due speaker da 6,5″ destinato a un uso domestico (249 dollari). Si passa, quindi a quello intermedio – Mustang GT 100 – da 100 Watt e una cassa da 12″ da usare in studio o sul palco (399 dollari). Fino al top di gamma – Mustang GT 200 – da 200 Watt con due speaker da 12″ progettato per grandi eventi su grandi palchi (599 dollari). Tutti gli amplificatori funzionano come altoparlanti Bluetooth se si desidera riprodurre una traccia di backup dal telefono per esercitarsi e sono anche dotati di un'uscita USB per la registrazione sul computer.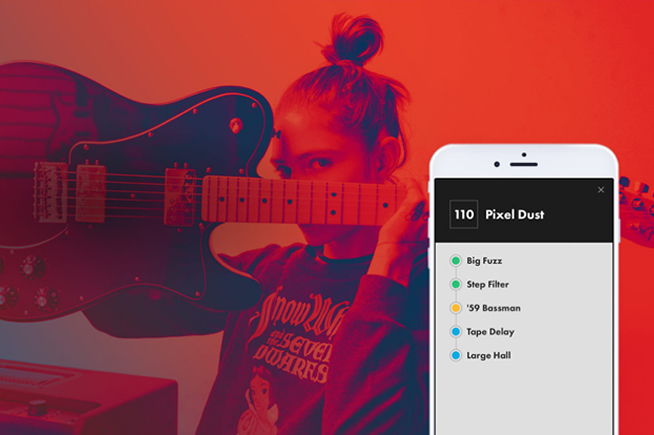 Fonte foto: Fender
L'app Fender Tone per gli amplificatori Fender Mustang GT consente scaricare e modificare i preset, condividerli o aggiungerli a una playlist da utilizzare durante le proprie esibizioni.