Latest generation materials for a smartphone that can adapt to multiple tasks: from pc monitor, to tablet, to car display or screen to play
To bend in the future the competition Apple plans to create a foldable iPhone. It is for now only a patent and unlikely to see it on the market in a short time. But the one launched by Apple is a signal to the competition: the next iPhones are ready to amaze.
The new foldable iPhone. As we said it is a patent, filed by Apple in August 2014 but assigned and made known only in these days. The foldable iPhone will be composed of special materials for a smartphone. Glass, ceramics, aluminum and especially carbon nanotubes. And it is precisely the latter that will make it foldable even in the part of the screen. Anche se molti esperti parlano anche del possibile uso di grafene per sviluppare questa tecnologia. Immaginatevi di piegare il dispositivo lungo il display senza danneggiare i circuiti e avere così a disposizione più di uno schermo allo stesso momento.
Lo sviluppo dell'elettronica flessibile
L'interesse verso dispositivi elettronici in grado di flettersi e piegarsi non è nuovo. LG era salita alla ribalta qualche anno fa quando aveva parlato dei suoi schermi OLED in grado di essere anche arrotolati. Così come i tentativi dell'Istituto svizzero di ricerca EPFL che ha provato a realizzare dei circuiti flessibili con il metallo liquido. Composti da una lega di oro e gallio. Nel caso dell'iPhone pieghevole sarebbero i nanotubi a essere costruiti in modo da creare dei percorsi pieghevoli visibili all'utente. A questi verrebbero aggiunti altri substrati altrettanto pieghevoli come il polimero "flexiramics" di Eurakite. Un materiale innovativo che si piega o si arrotola come fosse un foglio di carta.
Perché un iPhone pieghevole?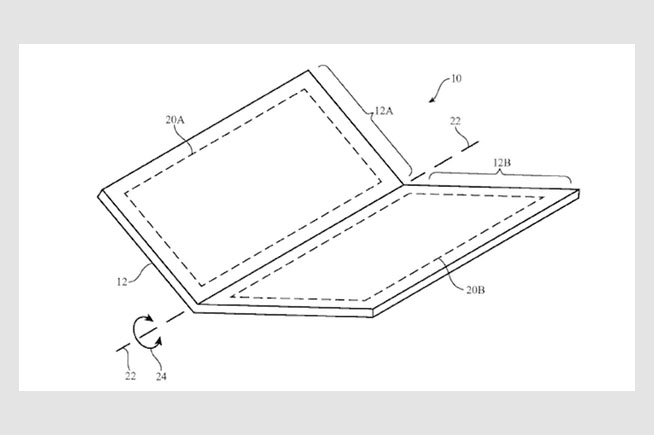 Fonte foto: Patently
il brevetto dell'iPhone pieghevole
Nel brevetto, Apple sottolinea che il dispositivo avrebbe una sola giuntura. Ma che questa consentirà all'iPhone di piegarsi in più modi. Questa è la chiave per capire come si evolverà la ricerca per la costruzione di uno smartphone pieghevole. Un dispositivo con uno schermo adattabile a più funzioni diventerebbe in un colpo solo sia smartphone, che tablet, che schermo tv, un display per auto, attrezzatura per un negozio o un monitor per giocare. Insomma qualsiasi funzione vi viene in mente o quasi. Per ora ovviamente trattandosi di un brevetto non si sa se il progetto vedrà mai la luce. Ma presto potremmo abituarci all'idea dei display flessibili e non solo nel campo dei device mobile.