The two web giants, enemies in business, are working together to lay an undersea cable connecting Los Angeles and Hong Kong
Facebook and Google, enemies and friends. The two Silicon Valley giants have formed a partnership to lay an ocean backbone linking the United States to Hong Kong. The fiber optic cable, which will have a bandwidth of 120 terabits per second, will be laid by Pacific Light Data Communication.
The project financed by Google and Facebook will cover a distance of 12,800 km and, once realized, it will be the fastest backbone ever - with a bandwidth twice that of any other cable connection existing today - thus beating the record currently held by the "FASTER cable" that connects Singapore and Taiwan and that had seen, even in that case, the participation of the Mountain View giant. L'obiettivo di questa joint-venture è di offrire un servizio più performante e affidabile agli utenti che collegano dai paesi dell'area del Pacifico. La nuova dorsale entrerà in funzione entro il 2018.
L'unione fa la forza e aumenta il traffico
Il progetto di questa nuova dorsale – chiamata " Pacific Light Cable Network" – è stato annunciato l'anno scorso prima che fossero svelati i nomi di Google e Facebook. Il costo si aggirerebbe intorno ai 400 milioni di dollari. Il cavo, come accennato, con una larghezza di banda di ben 120 terabit al secondo che coprirà una distanza di 12.800 km, è costituito da cinque coppie di fibre ognuna con una potenza di banda dell'ordine di 24 Tbps. Una mossa quasi obbligata per Facebook e Google i cui servizi generano molto traffico e, di conseguenza, devono investire (in proprio) in infrastrutture di rete per garantire il massimo delle prestazioni. È, inoltre, molto probabile che l'utilizzo della nuova dorsale potrà essere affittato anche da altre aziende per erogare i propri servizi.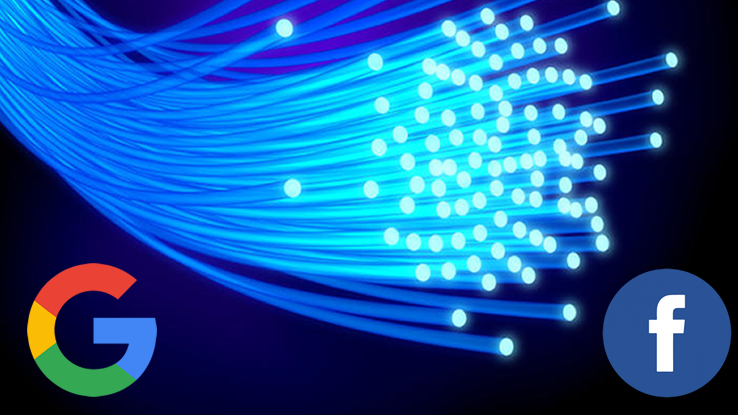 Fonte foto: Pixabay
Fibra ottica, alleanza tra Google e Facebook
Business che fa gola a molti
La realizzazione in proprio, o in joint-venture, di una dorsale per i due colossi del web non è una novità. Google ne ha già sei proprietarie all'attivo (Unity, SJC, FASTER, MONET e Tannat), mentre Facebook si sta accordando con Microsoft per costruirne una, sempre in fibra ottica, sotto l'oceano Atlantico. Anche Amazon è intenzionata a investire in questo business, ed è attivamente alla ricerca di soci con cui realizzare qualche progetto.