Since about 9 p.m. on April 4, the search engine is not working for users of the TIM network. Still unknown the reasons, although someone speculates problems
Some cry conspiracy, others predict the arrival of locusts and then the end of the world. Jokes and jokes aside, many Italian Internet users are quite worried: since the late evening of April 4, 2018 Google and all services related to it are unreachable in many parts of our country.
Whether you try to perform a search or you try to read e-mail, it doesn't matter: Google does not work for those who surf the TIM network and so all sites related to its "sphere of influence": Gmail, Google Docs web applications, Google Drive, Google Maps and so on. Un problema non da poco, dal momento che sia il motore di ricerca, tanto i servizi offerti dalla società di Mountain View sono tra i portali più visitati e utilizzati nel nostro Paese. Al momento sono ancora ignote le cause del malfunzionamento: tanto Google quanto la compagnia telefonica non hanno al momento rilasciato dichiarazioni al riguardo.
Google non funziona, cosa sta succedendo
Dalle 21:30 circa del 4 aprile i contatori della versione italiana di downdetector sembrano impazziti: nel giro di pochi minuti sono arrivate migliaia di segnalazioni da parte degli utenti italiani sul mancato funzionamento di Google e dei servizi di Big G nel nostro Paese. Anche se ampiamente diffusi lungo tutto lo Stivale, i malfunzionamenti sembrano riguardare solamente gli utenti TIM, impossibilitati a effettuare ricerche, consultare la posta elettronica o accedere ai file archiviati nel cloud storage dei Big G.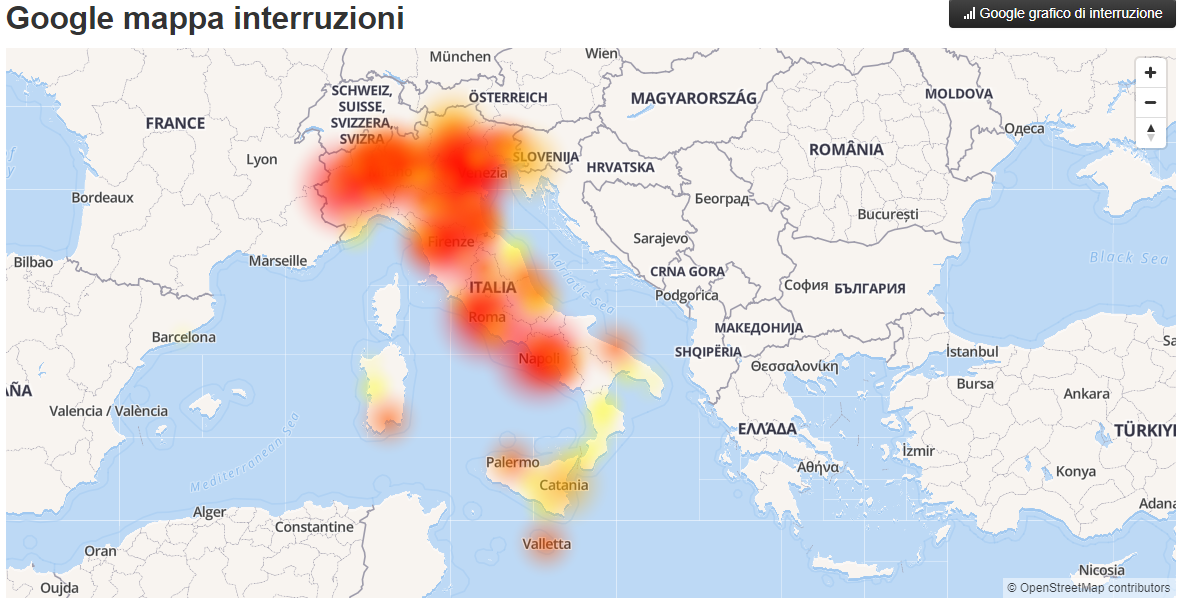 Fonte foto: downdetector.it
La mappa di downdetector.it relativa ai malfunzionamenti Google
Anche se al momento si ignorano le cause di tale guasto (né Google né la compagnia telefonica hanno ancora rilasciato dichiarazioni al riguardo) qualcun ipotizza che possa trattarsi di un problema legato ai DNS. Come accaduto in occasione dell'attacco DDoS che ha messo KO metà Internet tra la fine del 2016 e l'inizio del 2017, il sistema di risoluzione degli indirizzi sembra non essere in grado di indirizzare le richieste degli utenti verso i server Google, che risulta quindi irraggiungibile.
Google non funziona, cosa fare
Fino a quando i tecnici TIM e Google non riusciranno a capire cosa ha causato il malfunzionamento, gli utenti potranno fare ben poco. L'unica carta che resta a loro disposizione (oltre ad attendere pazientemente) è quella di utilizzare una delle tante alternative che la Rete mette loro a disposizione. One of the best Italian alternatives to Google, for example, is represented by Arianna, but it's not the only one. If you want, then, there are many other web search engines able to find results that not even Google can index: it's enough to know them and know how to use them to not be able to do without them anymore.