The appearance of these smilies, according to the Chromium blog, would be a way for Chrome to "celebrate" the opening of the 100th page in incognito mode
You don't have to hide. There are millions of Italian men and women who have at least once seen an X-rated movie on the Internet. To leave no trace of the vision, the most experienced use the incognito mode. But Google wanted to make "a gift" to its users and inserted a smiley face that signals if a person watches too many hot videos.
Google has not provided a real explanation and it could very well be one of the many easter eggs - little surprises - that Mountain View programmers - but not only them - disseminate in their programs and services waiting for users to discover them. Può trattarsi di foto o animazioni, ma anche di scherzi, giochi, oppure di vere e proprie applicazioni che si attivano di solito con una combinazione di tasti o una serie di azioni. Anche queste faccine potrebbero essere degli easter egg. La spiegazione di Chromium, il blog degli sviluppatori di Chrome, è però "tecnica": la faccina avverte che aprire troppe schede per la navigazione in incognito consuma molta energia. Stop.
Sorridente o ammiccante? Dipende…
È più divertente pensare che quelle faccine sorridenti o ammiccanti – a seconda del sistema operativo usato – significhino che Chrome vi stia avvertendo che state guardando troppi video porno in modalità in incognito…. e lui lo sa. Non è vero? C'è poi una curiosità nella curiosità. Perché la faccina è ammiccante – ? – nei dispositivi Android e sorridente – ? – in quelli iOS? Nessuno (ancora) lo sa. E il mistero si infittisce.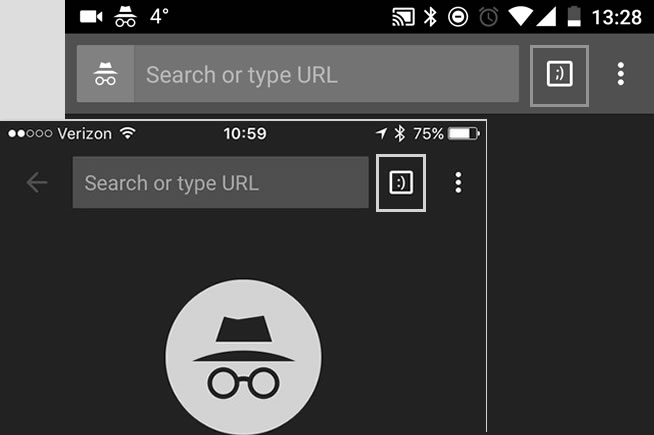 Fonte foto: Marques Brownlee | Twitter
Le faccine sono diverse sui dispositivi Android e iOS. Chissà perché…