A new reality conceived for the development of small smart cars and a partnership with Fiat to realize minivans with semi-autonomous driving. Google launches the challenge to Uber
Google doesn't leave or rather doubles down in the self-driving car sector. Big G presented Waymo, a new company for self-driving cars. In addition, Google is collaborating with Fiat to create a series of semi-autonomously driven minivans to compete with Uber.
Here's Waymo, Google's new smart car company. Google has spun off its efforts in creating self-driving cars by creating a new company: Waymo. The intention is to succeed by the end of 2017 to put on the market a fleet of fully autonomous cabs able to transport people within large cities and compete with Uber. Google ha presentato la sua prima smart car nel 2014 e da allora sono milioni i km di test effettuati dalle auto dell'azienda statunitense. Sono auto senza volante, pedali o specchietti e durante le prove hanno causato solo qualche piccolo incidente, senza particolari conseguenze.
La partnership di Google con Fiat
(tratto da YouTube)
Non solo piccole auto da due posti per accompagnare le persone in completa autonomia a fare la spesa, a ritirare il figlio da scuola o per uscire la sera. Google, attraverso Alphabet Inc, ha pensato anche a una partnership con Fiat Chrysler. Google implementerà una versione semi-autonoma del minivan Chrysler Pacifica. Un progetto d'auto elettrica che si sta sviluppando in collaborazione con la casa automobilistica italoamericana. L'obiettivo è di inserire in commercio la nuova Pacifica sul mercato già alla fine del 2017. Entrambe le società non hanno voluto commentare in merito a questa notizia ma hanno confermato la collaborazione.
La nuova Chrysler Pacifica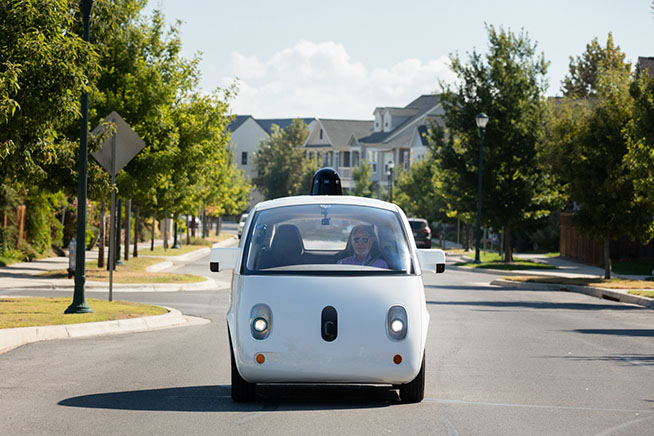 Fonte foto: Waymo
Il prototipo di auto a guida autonoma sviluppato da Google
Google nei prossimi mesi testerà circa 100 prototipi di Pacifica completamente elettrici dotati del suo sistema e dei sensori per la guida autonoma. Fiat Chrysler è la prima casa automobilistica di spessore mondiale a trovare un accordo con Google nel campo delle smart-car. Questo potrebbe essere il primo passo verso auto più grandi completamente autonome. Adatte a famiglie o gruppi di amici.
(video in apertura tratto da YouTube)
Alcuni video presenti in questa sezione sono stati presi da internet, quindi valutati di pubblico dominio. If the subjects present in these videos or the authors have something against the publication, it will be enough to make a request of removal sending a mail to: [email protected]. We will provide to the cancellation of the video in the shortest time possible.