Country you go to, customs you find: when you are abroad you find yourself immersed in cultures, customs and languages different from your own. Many Italians do not know, however, that even the channels to watch on TV or streaming platforms are different. Those who connect to RaiPlay or other similar services from another country will be disappointed: the site is obscured. In fact, in these cases, geo-restrictions linked to the IP address are activated. Fortunately, there are solutions to get around these obstacles and successfully watch Italian TV abroad, including streaming platforms to which you are subscribed, from Netflix to Disney + or important events broadcast live, such as the European Championship matches commented by Italian broadcasters.
Why you can't watch Italian TV abroad
From some years now, Italian broadcasters have added to traditional TV channels also streaming platforms, such as RaiPlay or Mediaset Play, where you can watch all the contents broadcasted in their schedule.
It's not enough to have an Internet connection to access these platforms, but you must also connect from Italy, because the license is granted at national level. The process of extending licenses to other countries is complex, so broadcasters avoid it and limit the viewing of their programs only to their own nationals.
This means that if you try to access a service like RaiPlay from abroad, you will be faced with the following message "Our service is not available in this country". This also applies to the platforms you subscribe to, such as Netflix, Disney+ or Amazon Prime Video: if a TV series or other show has only an Italian license, it will be inaccessible from any other country.
But how does a provider track the user's geographical location and, consequently, block access to certain websites?
This is done by controlling the IP address or Internet Protocol Address, a code that is assigned to all devices, from computers to smartphones, that surf online.
The code allows you to communicate in a local area network and is the basis for transmitting the signal and information from the sender to the receiver.
The IP address does not contain any particular sensitive data of the connected user, but it allows to trace his geographical location and Internet Provider.
Unfortunately, there is a solution that allows to encrypt the IP address: VPN.
Why use a VPN to watch Italian TV abroad
VPN stands for Virtual Private Network, which is a virtual private network that allows you to hide the IP address of the user who surfs online and encrypts the Internet traffic.
In this way, your privacy and security is protected to the maximum, because it leaves no trace while you use the various platforms and web services. The VPN relies on pre-existing infrastructures, thus creating a private channel that simulates the location of the user, who can choose to appear connected from one country or another, provided that the VPN service has a server available in that country.
This happens thanks to the so-called VPN Tunnel: when the user connects to the Internet, his device instead of sending data directly to the server of his provider, sends them to the VPN server, which passes the information into a kind of encrypted tunnel. Quindi, l'utente naviga con un IP nascosto e nessuno può rintracciare le sue mosse online, neanche eventuali hacker e malintenzionati. Quindi, la VPN, non solo permette di accedere a servizi normalmente inaccessibili in un Paese, ma protegge da crimini informatici di ogni tipo, come la sottrazione di dati bancari.
Per avere una VPN davvero sicura e performante occorre scegliere con attenzione il proprio fornitore. Il mercato offre diverse alternative, più o meno valide, ma tra i migliori servizi a disposizione spicca sicuramente NordVPN, piattaforma completa per chi vuole guardare la tv italiana all'estero.
Come usare NordVPN per guardare la tv italiana all'estero
Prima si è parlato della possibilità di usare la VPN all'estero, a patto che l'azienda scelta disponga di server proprio in quel Paese.
NordVPN può geo-localizzare l'indirizzo IP praticamente in tutto il mondo: conta più di 5000 server in 59 nazioni diverse, compresa l'Italia. Ciò significa che non si avranno problemi nel cambiare la geo-localizzazione dell'indirizzo IP e guardare la tv italiana ovunque ci si trovi.
NordVPN consente di:
guardare in streaming film, programmi TV, serie e tutti i contenuti italiani in totale sicurezza, ovunque ci si trovi
fruire dei contenuti in streaming senza limiti di velocità o di banda, senza subire interruzioni o rallentamenti durante la visione (dimentica il buffering).
ottenere una protezione continua grazie alla crittografia di ultima generazione
accedere velocemente e in modo sicuro ai siti di streaming preferiti senza passi aggiuntivi, grazie alla funzione SmartPlay
guardare dall'estero qualsiasi evento, sportivo e non, trasmesso in diretta in Italia
Per iniziare a usare NordVPN basta scegliere il proprio piano VPN e scaricare l'app su Windows, macOS, iOS o Android. Dopo l'accesso all'interfaccia, bisogna poi scegliere un server VPN o premere il pulsante Quick Connect in modo che l'algoritmo del programma scelta quello migliore per le proprie esigenze.
Se si vuole guardare la tv italiana bisogna scegliere un server dell'Italia usando la barra di ricerca oppure selezionandolo dalla mappa: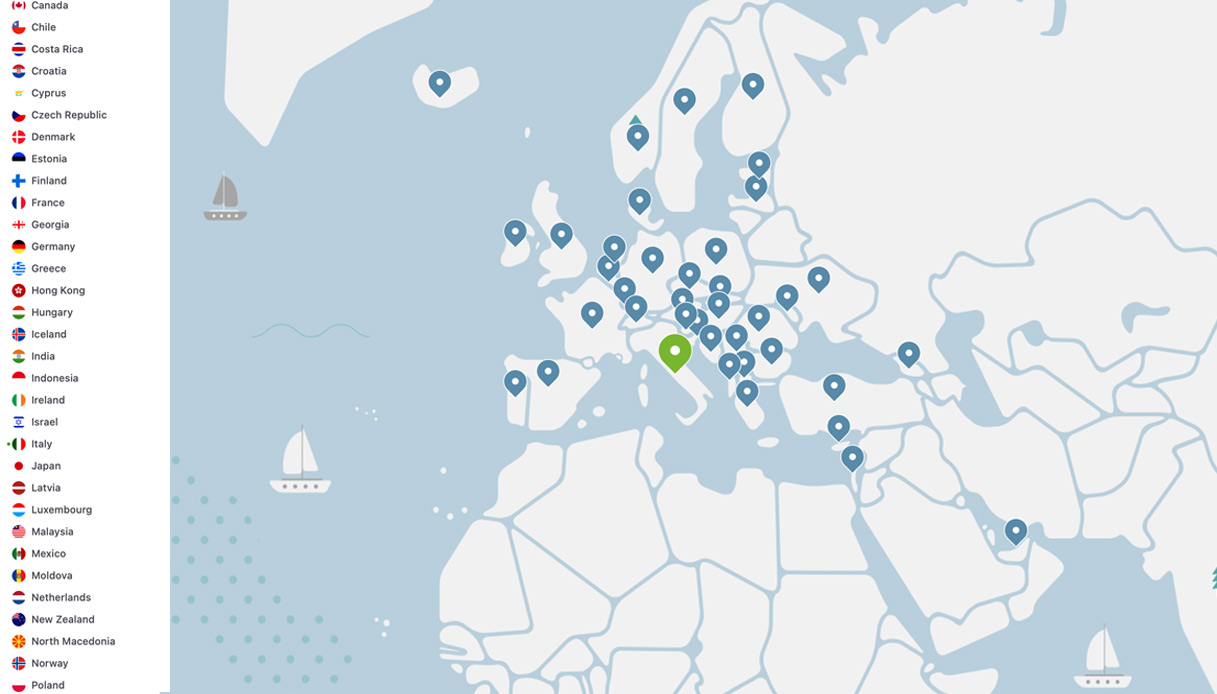 Fonte foto: NordVpn
Una volta terminata questa operazione, si può accedere alle piattaforme streaming desiderate usando le proprie credenziali come si fa solitamente. Naturalmente, il servizio è legale ma bisogna avere un abbonamento alla piattaforma di streaming, se necessario. I siti web delle reti nazionali, come RaiPlay richiedono una semplice iscrizione, mentre per accedere a Netflix o Disney + bisogna pagare il servizio.
Per usare NordVPN non bisogna essere maghi del computer, è un servizio completamente user-friendly. The connection is protected, anonymous but above all you surf with an Italian IP, which allows you to watch even content blocked abroad.
The user will not perceive any change related to speed: NordVPN has also been awarded as the fastest VPN on the market by Audit and other independent tests, so streaming and viewing will be smooth and uninterrupted.
In addition, a single account can be used on 6 different devices simultaneously with maximum protection: from the computer, to the smartphone, up to the smart TV. So while one person is smart working, another with the same account can stream a movie and a third can enjoy a live soccer match or other event broadcast in Italy at that moment. It is, therefore, a great solution for families and roommates who live abroad but want to feel at home.
Finally, for any need, the company offers an excellent customer support service, at all hours and for all days of the week, including holidays.
NordVPN has just announced a limited-time offer on the two-year plan, which includes a heavy discount and 30-day money-back trial.
Try NordVPN now risk-free and take advantage of the discount.