The Huawei Mate 10 PRO mounts a Kirin 970 processor supported by 6GB of RAM and 128GB of internal storage. Available from mid-November at 849 euros
To the roll call of the big smartphone companies that have presented a bezel less device in the second half of 2017 was missing only Huawei. The Chinese company waited a bit but it was worth it: in an event organized in Munich, the Huawei Mate 10, the Huawei Mate 10 PRO and the Huawei Mate X Porsche Design were presented.
Of the three new smartphones only two will be launched in Italy as well: the Mate 10 PRO and the Porsche Design (which will be sold only in the stores of the German car company). Despite similar names, the three smartphones have quite different technical features and design. Il Mate 10, ad esempio, non ha uno schermo con rapporto d'aspetto 18:9 (caratteristica tipica di tutti i top di gamma presentati in questa seconda metà del 2017), ma sarà 16:9. Il Mate 10 PRO, invece, avrà un display 18:9 e un design bezel-less, con la cornice superiore e inferiore ridotte al minimo.
Il Mate X Porsche Design si differenzia per il design della parte posteriore. Infatti, il Mate 10 e il Mate 10 PRO hanno una striscia posteriore orizzontale di colore più chiaro rispetto a quello dello smartphone che "abbraccia" la doppia fotocamera, il Mate X Porsche Design, invece, ha una striscia verticale che "ingloba" i sensori fotografici e il lettore per le impronte digitali. Piccole differenze che regalano a tutti e tre gli smartphone un proprio "carattere". Cosa non semplice in un mercato degli smartphone che si va sempre più omologando su uno stile e su caratteristiche molto simili. Ecco le specifiche tecniche del Huawei Mate 10, del Mate 10 PRO e del Mate X Porsche Design.
Caratteristiche Huawei Mate 10 PRO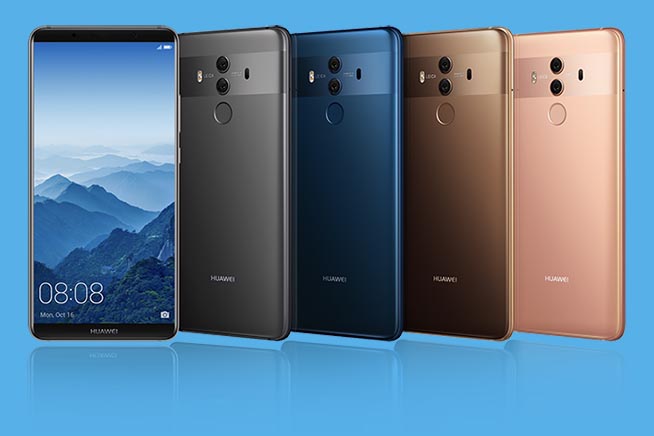 Fonte foto: Huawei
Huawei Mate PRO 10
Partiamo da uno dei due smartphone che vedremo in Italia. Il Mate 10 PRO è la risposta di Huawei ai vari LG V30, iPhone X e Galaxy Note 8 usciti in questi mesi. L'azienda cinese si posiziona in quella nicchia di mercato formata da smartphone top di gamma con design bezel-less e schermo con rapporto d'aspetto di 18:9.
Il Mate 10 PRO entra a far parte di questa cerchia ristretta senza nessun timore di sfigurare: all'interno dello smartphone troviamo il nuovo chipset Kirin 970 realizzato da HiSilicon, azienda sussidiaria di Hauwei, supportato da 6GB di RAM e da 128GB di memoria interna (non c'è l'espansione con la scheda microSD). Sul nuovo chipset Kirin 970 è necessario fare un piccolo focus. This is not the classic System on a Chip that we find on all other Huawei smartphones, but a processor that integrates within itself an i7 coprocessor capable of handling all the sensors and artificial intelligence. The Mate 10 PRO is the first smartphone to hit the market with a unit dedicated exclusively to artificial intelligence (NPU - Neural Processing Unit) inside. Thanks to this special processor, the smartphone is capable of recognizing up to 2,000 images per minute and improving the quality of shots even in low light conditions.
The OLED screen is 6 inches with FHD+ resolution (2160 x 1080 pixels) and occupies over 80% of the front of the smartphone (FullView technology). The photographic compartment was made in collaboration with LEICA: at the back we find a dual rear camera with a 12-megapixel RGB sensor and a 20-megapixel monochrome one. Both have a focal aperture of 1.6, which in a nutshell means that shots in low light have a higher quality. Optical stabilization is only present on one of the two lenses. The front camera, on the other hand, is 8 Megapixels with a focal aperture of 2.0. The photographic compartment also integrates technologies that rely directly on artificial intelligence: thanks to the new Real Time Scene AI-powered functions, the recognition of objects within the scene to be photographed is immediate. Logically, there is also the bokeh effect.
The battery is 4000 mAh and ensures a battery life of twenty-four hours in case the smartphone is put under stress, otherwise you can easily get to the next day. In addition, with Huawei Super Charge you will have 58% battery with 30 minutes of charging. The Mate 10 PRO will be dust and water resistant thanks to IP67 certification.
The smartphone will come to market with Android Oreo 8.0 and the new EMUI 8.0 user interface. The revamped user interface allows for the best use of artificial intelligence and a new simultaneous translator. In addition, the smartphone can be connected with the computer via a simple USB cable and use it in mirroring: on the PC screen will appear the home of the Mate 10 PRO and you can use all the applications inside. The operation is very similar to what we have already seen with the DeX platform available for Galaxy S8 and Note 8.
Final closure on the release date and price of the Mate 10 PRO. The smartphone will be available in Italy from mid-November at a price of 849 euros. Coloro che lo acquisteranno in pre-ordine dal 17 ottobre riceveranno in regalo lo Smart Writing Set firmato Moleskine, composto da Paper Tablet, Smart Pen e la custodia coordinata per digitalizzare, organizzare e condividere in tempo reale le proprie idee. Le colorazioni disponibili saranno tre: Midnight Blue, Titanium Gray e Moka.
Specifiche tecniche Huawei Mate X Porsche Design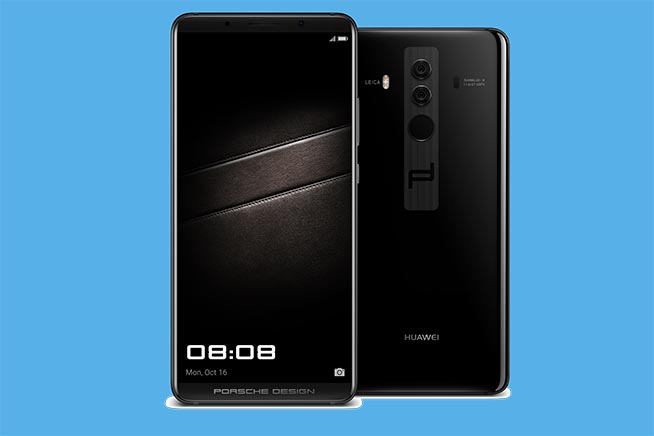 Fonte foto: Huawei
Huawei Mate X Porsche Design
L'altro modello che arriverà in Italia sarà il Mate X Porsche Design. Come si può intuire il nome prende ispirazione dall'iPhone X presentato lo scorso mese da Apple. Il Mate X condivide con il fratello "povero" la stessa scheda tecnica, con una sola differenza: lo storage interno. Mentre sul Mate 10 PRO troviamo 128GB sul Porsche Design ci sono ben 256GB. Another difference is the quality of the materials: the back has been made of glass with a ceramic effect. In addition, the strip always present in the back and that characterizes the design of the smartphone, is placed vertically and embraces the fingerprint sensor and the dual photo sensor (on the Mate 10 PRO is horizontal). The last difference concerns the price: the Mate X Porsche Design will be launched at 1395 euros (also from mid-November) and will be available only in the stores of the German car manufacturer. The only color available will be Diamond Black.
Features Huawei Mate 10
Although it will not arrive in Italy it is mandatory to talk briefly about the Huawei Mate 10. It is the "basic" version of the phablet from the Chinese company and has some completely different features. The only things in common with the Mate 10 PRO are the processor, the photo compartment and the battery. The amount of RAM is 4GB, while the internal memory is 64GB with the possibility to expand it with a microSD card. Completely different also the screen: on board the Mate 10 we find a 5.9-inch IPS display with 2560×1440 pixel resolution and 16:9 aspect ratio. Despite an "old-fashioned" panel, the Chinese company has managed to reduce the bezels as much as possible. The fingerprint reader is located on the front. Also present is the 3.5mm audio jack, absent on the other two versions of the device. It will not be water resistant, having received only the IP53 certification. Available in Pink Gold, Champagne Gold, Mocha Brown and Black colors, but as mentioned above we will not see it in Italy.
Huawei Mate 10 Accessories
In addition to smartphones, Huawei has also launched three accessories that can be used together with the devices. These are the EnVizion 360 camera, the SuperCharge Power Bank and the Smart Scale. The EnVizion 360 camera is a 360-degree camera that takes 5K resolution images and 2K video. Content can then be easily shared on social media. The Super Charge Power Bank is the external battery that supports Huawei's fast charging technology, while the Smart Scale is a device that monitors a person's health status and calculates their body mass index via an ad hoc app.