New renderings reveal the design of the new Huawei smartphone: confirmed the dual lens camera, while it is goodbye to the home button.
The rumors about the Huawei P10 continue. On the web, in recent hours, have appeared what seem to be the first and true images of the next top of the range of the Chinese company. According to these leaks, the Huawei P10 will mount an edge-to-edge display.
These new rumors are added to those circulated in recent weeks. GFXBench, in fact, had unveiled some data on the technical characteristics of the P10. According to the site, the new Huawei smartphone will mount a Kirin 960 processor, will have an internal storage space of 256 GB and a RAM memory of 6GB. More details have also been provided regarding the display size: the P10 will be launched in the 5.5-inch version and will have a resolution of 2560 x 1440 pixels. In relazione al sistema operativo, sempre facendo fede ai rumors, il prossimo top di gamma girerà con Android Nougat 7.
Simile al Samsung Galaxy S7 Edge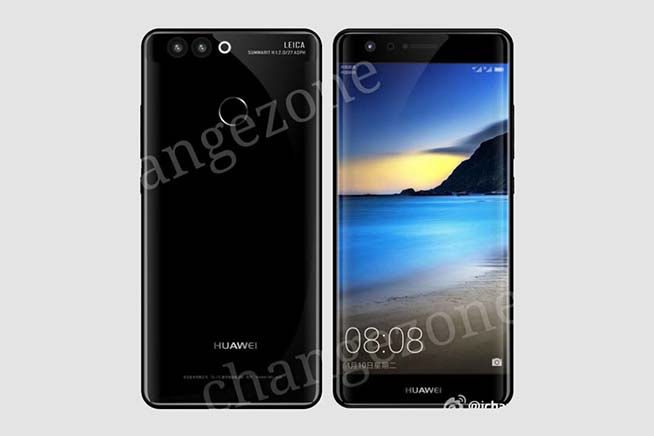 Fonte foto: Changezone
Ecco le prime immagini del nuovo Huawei P10
Dunque anche Huawei, come Nokia e Apple, è pronta a seguire l'esempio di Samsung, adottando per il P10 un display curvo su entrambi i lati. In realtà, alcuni giorni fa, le prime immagini avevano fatto pensare il contrario: gli shot mostravano un display ancora circondato dalle cornici laterali come nel P9. Ora, invece, gli ultimi leaks propongono un telefonino con un look diverso che ricorda molto il Galaxy S7 Edge. Dalle immagini, inoltre, si nota che il P10 monterà ancora una fotocamera dual lens, che con ogni probabilità sarà prodotta in partnership con Leica. If these renders are authentic, the Huawei P10 will not include a home button and will integrate a fingerprint reader on the back with a new look: no longer square but round in shape.
Huawei P10 release date
There is no news instead on when the new top of the range of the Chinese company will be presented. At the moment, in fact, it is not known whether Huawei will choose the stage of the International Consumer Electronics Show (CES) in Las Vegas to be held in January, or will wait for the Mobile World Congress in Barcelona in late February.