Here's an original and secure way to control access to your home when you're away from home. Here's how it works
What if you could control access to your home from anywhere? No longer is there a reason to come home just to let someone into your home, beach or mountain house, or let in some guest - maybe coming from Airbnb service - because Igloohome Smart Keybox takes care of it.
Igloohome allow access to your properties to friends, guests, customers, service staff - or even just use this very special keychain as a backup in case family members forget their keys. Simply open this keychain to retrieve your keys via a unique PIN code or Bluetooth key that you provide to those you want to let in. Quando assegnate un codice PIN o una chiave Bluetooth potete, infatti, anche impostare il giorno e l'ora della partenza e la durata di validità del codice o della chiave.
A prova di hacker
Il vantaggio principale è che non dovete necessariamente essere presenti per aprire la porta della vostre, o delle vostre case ad eventuali ospiti. E altro vantaggio è che Igloohome Keybox non richiede un accesso a Internet che di questi tempi è sempre a rischio di hacking. La tecnologia Bluetooth è un modo alternativo per aprire il Keybox – semplicemente utilizzando lo smartphone nel raggio d'azione per sbloccarlo.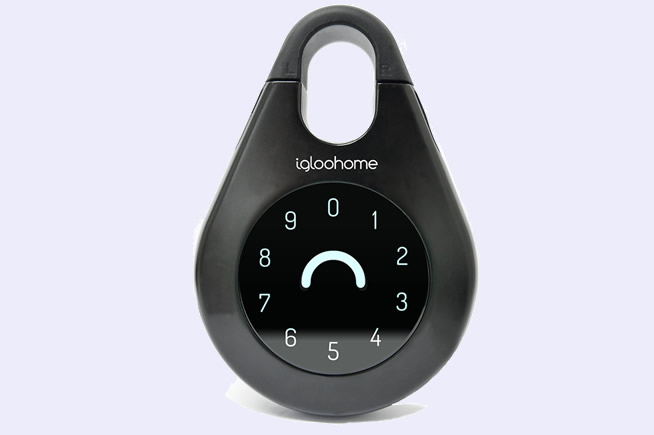 Fonte foto: igloohome Pte Ltd
Non è necessario essere a casa per far entrare amici, ospiti o clienti: basta inviare loro un codice PIN sul cellulare per recuperare le chiavi o la smart card per aprire la porta delle vostre proprietà
Piccolo e discreto
Smart Keybox pesa circa 1.3 grammi e sembra, a prima vista una specie di lucchetto a forma di pera che misura 4.5 x 6.5 pollici per uno spessore di 1.5 pollici. La parte superiore è un anello sbloccabile in modo da poter agganciare questa "lucchetto" speciale alla maniglia della porta, a un cancello o a una ringhiera. Chi preferisce può appenderlo al muro con un chiodo. Smart Keybox, per proteggere la chiave al suo interno, è realizzato in lega di zinco rinforzato, mentre l'anello superiore rimovibile è in acciaio con un rivestimento in gomma di silicone. L'interno della Keybox è abbastanza spazioso per contenere fino a 6 chiavi fisiche – quelle tradizionali – e 7 smart card. Smart Keybox has an agreement with Airbnb: in this case, it is the company that generates and provides guests with the PIN codes to enter your home, and stay the programmed time. It's also a useful tool for real estate agents who can do the same thing with potential clients. Igloohome Smart Keybox will be on sale starting April worldwide at a special price of $169.00.