Since 8:30 pm today Iliad is not working in most of Italy: it is impossible to call, receive calls and surf the Internet. Here's what's happening
Problems all over Italy for Iliad, the new phone company that made its debut a few months ago presenting itself with very aggressive offers and bringing a breath of fresh air to a sector that had crystallized in the last period.
These first months, however, have been characterized by several inefficiencies: in the first days there were problems with the IP of the Internet connection, while in the last period some users could not make calls. Since this evening, however, the Iliad data network seems to be completely down: you can't surf neither in 3G, nor in 4G. The problem seems to have affected all Italy, as evidenced by the hundreds of reports on the site downdetector.com and Twitter. Per il momento non si conoscono le cause del problema, ma è sicuro che i tecnici Iliad sono al lavoro per risolvere il disservizio e permettere ai propri utenti di tornare  a navigare con lo smartphone.
Perché Internet Iliad non funziona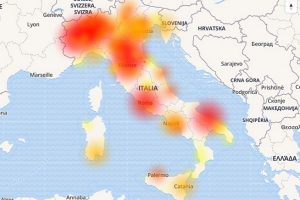 Fonte foto: Redazione
La cartina con le zone maggiormente colpite dal problema alla rete dati di Iliad
Per il momento il problema sembra riguardare solamente la connessione a Internet Iliad, mentre è possibile effettuare e ricevere le chiamate. Non si conosce il numero di utenti colpiti dal disservizio, ma sicuramente supera le decine di migliaia: secondo i dati diffusi dalla compagnia francese le schede attivate sono più di un milione. Iliad is not working in most of Italy, as shown by the map on the site downdetector.com that collects the reports of users.
Iliad has not provided any explanation as to why the Internet is not working, but surely the technicians of the French company are already working to restore the line. In such cases it is difficult to speculate on the cause of technical inefficiencies, but these are youthful problems that will become less and less frequent as time goes by. We will see if in the next few hours the problem will be solved. We will keep you updated.
UPDATE: the problem was solved around 22:00.