With the function Archive, users can temporarily hide the less significant photos and then "resurrect" them at any time
Between selfie, panoramic photos and vacation pictures, it can happen that in your Instagram profile end up photos that are not very significant or that "take away space" from better images and shots. The risk you run is to bore those who follow you and lose likes and followers.
The photographic social network owned by Facebook has introduced a new feature that allows you to temporarily "hide" images and store them in a special section of your profile. Thanks to Archivia - this is the name of the function available with the latest version of the app - you can clean up your Instagram profile without having to permanently delete your photos. Per recuperarle, come vedremo in dettaglio tra poco, sarà sufficiente accedere ad Archivia e scegliere quale immagine "resuscitare" e quale, invece, lasciare nel limbo.
Come archiviare le foto su Instagram
Per visualizzare la nuova sezione "Archivia" sarà necessario, prima di tutto, verificare che l'app Instagram sia aggiornata all'ultima versione disponibile (la versione 10.22 sia per iOS sia per Android). Completata questa "verifica preliminare" si potrà procedere con l'archiviazione temporanea delle immagini. Una volta individuata la foto da nascondere, si dovrà aprire il menu impostazioni premendo sull'icona con tre puntini (in verticale nella versione Android, in orizzontale nella versione iOS) e scegliere la voce "Archivia".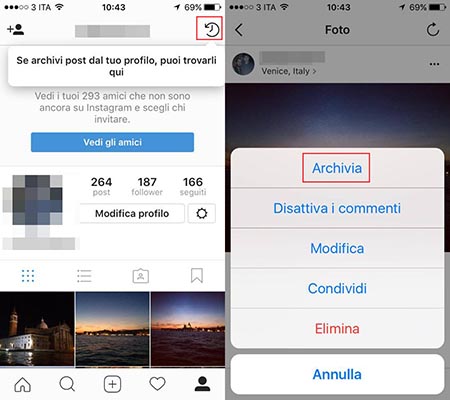 Fonte foto: redazione
Come archiviare le foto su Instagram
Per recuperare le immagini, invece, si dovrà aprire il proprio profilo (premendo sull'icona a forma di uomo stilizzato in basso a destra) e premere sull'icona a forma di orologio in alto a destra. Si accede così al proprio archivio personale, dove trovano "ospitalità" le foto nascoste temporaneamente: per "recuperarle" sarà sufficiente aprire l'immagine, premere sui tre puntini e scegliere la voce Mostra sul profilo.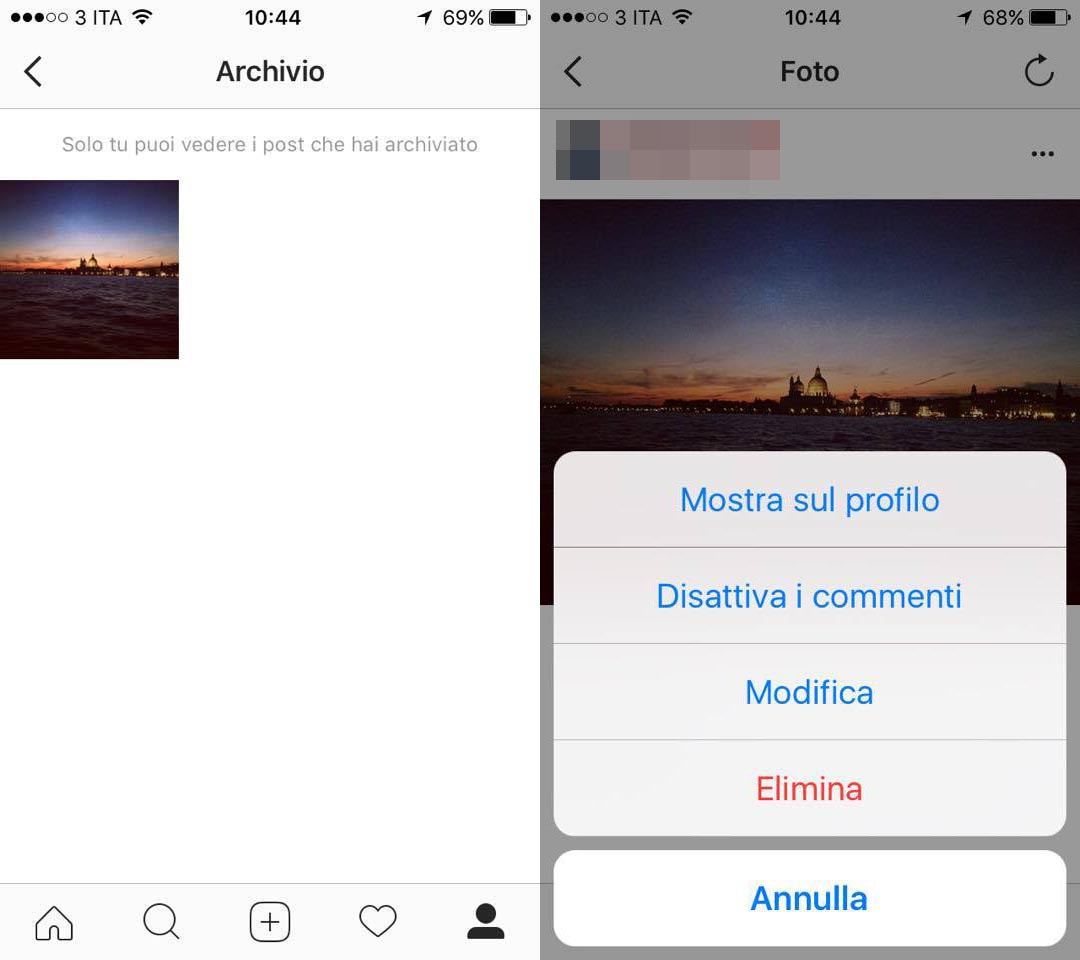 Fonte foto: redazione
Come togliere le foto Instagram dall'archivio