Gli schermi curvi in plastica saranno adottati solo sul prossimo top di gamma. Gli altri iPhone continueranno a usare invece il tradizionale LCD
Si sfidano a colpi di novità e spesso si fanno la guerra in tribunale. Ma stringono anche rapporti commerciali. Secondo le ultime indiscrezioni, Samsung sarebbe pronta a produrre 100 milioni di schermi OLED per Apple.
La notizia, che per certi versi sorprende, è stata svelata dal giornale coreano Korean Herald il quale in parte conferma i rumors recenti secondo cui l'azienda californiana sarebbe intenzionata ad adottare i display curvi per il prossimo top di gamma, l'iPhone 8. E non è tutto. Il presunto leak sostiene che solo l'iPhone 8 monterà gli schermi OLED, mentre per gli altri modelli Apple continuerà con i classici pannelli di vetro realizzati da due aziende diverse: LG Display e Japan Display. Sono solo rumors, che si sommano a tutte le altre notizie che da mesi stanno circondando il lancio dell'iPhone 8.
Display edge-to-edge e senza tasto home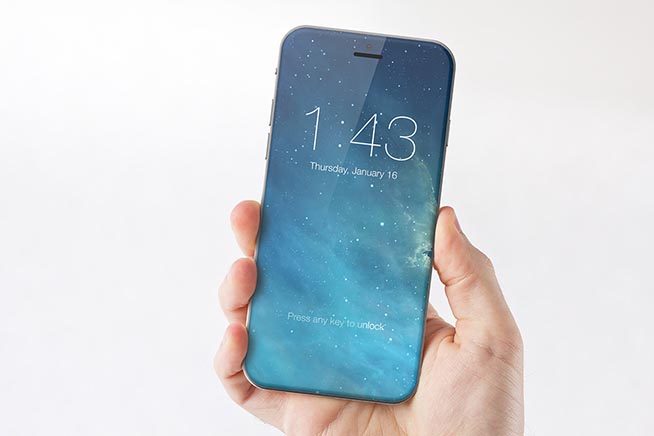 Fonte foto: BeHance
Rendering dell'iPhone 8 senza tasto Home. Cliccando sulla foto potrai visualizzare tutte le novità iPhone 8 rivelate sinora
Dunque, se queste informazioni sono autentiche, l'azienda con sede a Cupertino avrebbe deciso di seguire le orme del suo principale competitor e di puntare sui display OLED prodotti proprio dalla casa sudcoreana. Apple per il nuovo iPhone starebbe anche pensando di eliminare il tasto home e di integrare tutte le sue principali funzionalità direttamente nello schermo. Sulla stessa linea della società californiana si collocherebbero anche Samsung e Huawei entrambe pronte a dire addio al pulsante fisico. The three smartphone manufacturers could adopt the new technology from Synaptics, which has developed a small sensor that allows the fingerprint reader to be transferred under the displays.
Three new iPhone 8 models
Previous rumors, however, had speculated that Apple would plan to launch four new models. The company founded by Steve Jobs could present, in addition to the iPhone 8 and iPhone 8 Plus, the iPhone 7S and iPhone 7S Plus which will most likely still mount an LCD display.