The MyKronoz ZeTime smartwatch, unveiled at MWC 2017, combines traditional mechanical movement and a round color touchscreen dial
"My idea" - says Boris Brault, CEO and founder of MyKronoz - "was to combine the best of Swiss watchmaking tradition with the main features of a smartwatch, to encourage adoption among consumers of our wearable technology."
Thus, a hybrid watch was born, combining the best of both worlds: a traditional watch and a smartwatch. MyKronoz studied a special technology that allowed to drill a hole in the center of the round color TFT display of the ZeTime smartwatch and to insert the mechanical parts inside. Da un lato consente di leggere l'ora anche quando il display è spento – grazie alla tecnologia "smart movement" che garantisce fino a 30 giorni di autonomia alla parte meccanica con una sola ricarica – e dall'altro offre le ormai classiche caratteristiche di uno smartwatch.
Tradizione svizzera
Un orologio tradizionale da indossare tutto il giorno, ma con le funzioni di un vero e proprio smartwatch. Il touchscreen a colori, infatti, mostra in tempo reale le chiamate in arrivo, le notifiche dello smartphone, gli eventi del calendario, le indicazioni fitness in real time, insomma, qualsiasi tipo di reminder e molto altro direttamente dal polso.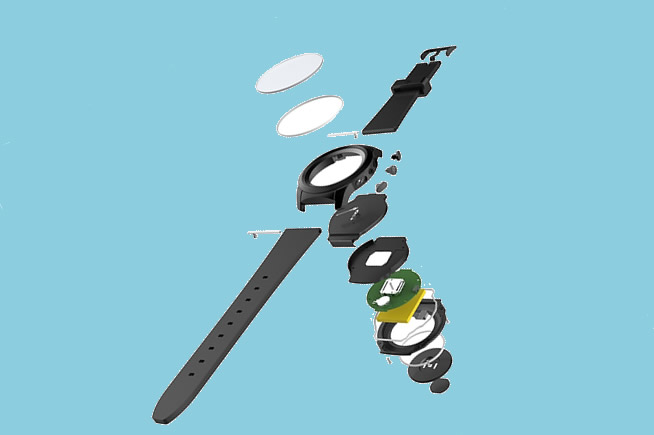 Fonte foto: MyKronoz
ZeTime è un orologio ibrido che unisce il meglio dell'orologeria svizzera tradizionale e l'innovazione degli smartwatch
Un salto nel futuro
Lo ZeTime, da un punto di vista estetico, si presenta con una cassa in acciaio inossidabile ereditata dalla tradizione orologiera svizzera, oltre a una grande varietà di quadranti digitali intercambiabili e cinturini pensati per abbinarsi a qualsiasi stile. Il cuore è, però, di nuova concezione. I modelli della famiglia ZeTime sono, infatti, dotati, di un accelerometro a 3-assi e un sensore ottico del battito cardiaco per rilevare attività fisica e del sonno e sono impermeabili (immersione fino a 30 m di profondità). Gli ZeTime di MyKronoz saranno in vendita dal prossimo settembre a partire da 199,90 euro.