If it is true that it is the first impact that counts, then there is little else to add. Pulling the Nubia Z11 out of its box, one can't help but be at least fascinated: the work done by the designers of the young Chinese manufacturer (Nubia is a subsidiary of ZTE) is remarkable and destined to "set the standard".
The Chinese smartphone, however, is much more than the edge-to-edge display with slightly curved edges. Inside the body made of space aluminum alloy find place some of the best hardware components available on the smartphone market today. The Nubia Z11 price, however, is kept on lower levels than those of its competitors. It is, therefore, a device characterized by good value for money (if not very good) and with the cards in order to say his in a crowded and particularly competitive. In short, as a business card the Nubia Z11 is not bad at all.
Technical characteristics of the Nubia Z11
The Nubia Z11 is among the "best equipped" devices available on the market today. Inside we find the SoC Snapdragon 820, "assisted" by the Adreno 530 graphics accelerator, 4 gigabytes of RAM and 64 gigabytes of storage space expandable with microSD card up to 256 gigabytes. On the connectivity side, the data sheet of the Nubia Z11 reads: LTE chip (including band 20 at 800 Mhz), Wi-Fi IEEE802.11ac, Bluetooth 4.1, NFC and infrared (to turn the smartphone into a kind of universal remote control). There is also compatibility with GPS, GLONASS and BeiDou for tracking and geolocation. The Nubia Z11 also supports dual SIM, but the second slot is shared with the microSD card: if you decide to expand the storage space, you'll have to make do with a single card. Powering it all is a 3,000 mAh battery.
Design and ergonomics of the Nubia Z11
A respectable spec sheet, which is matched by a design taken care of in every single detail. Let's start with the size of the device: the Nubia Z11 measures 72.3 millimeters wide, 151.8 millimeters high and 7.7 millimeters deep, for a total weight of just over 160 grams. Dimensions usually juxtaposed to devices with 5-inch displays, while the Chinese dual sim smartphone mounts a 5.5-inch screen. In short, as you can see in our photo gallery, engineers and technicians Nubia have done a great job to contain the size and improve the ergonomics of the smartphone. The user will not have difficulty holding and using the device with one hand, reaching the farthest corners without much difficulty (even if you have small hands and a bit 'stocky).
Similar discussion for the design: the work done by Chinese designers is visible to the naked eye. La parte frontale, con il display che occupa oltre l'80% della "facciata", è di grande effetto; la parte posteriore e le "rifiniture" non sono da meno, con la scocca e il telaio in alluminio regalano una sensazione di grande solidità al tocco.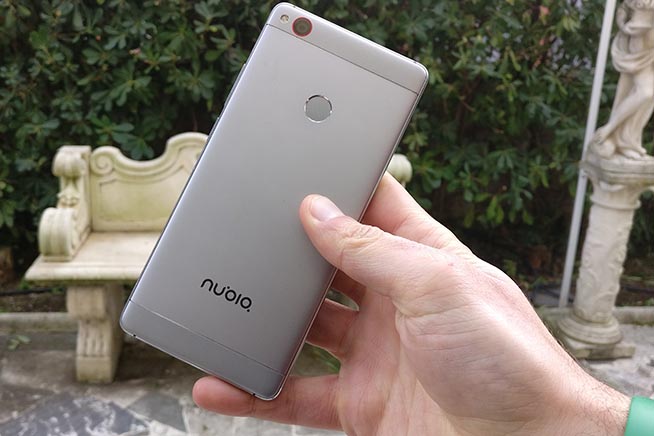 Fonte foto: Redazione
Clicca sull'immagine per accedere alla fotogallery e conoscere le scelte stilistiche di Nubia
Display del Nubia Z11
Luminoso e con una buona taratura dei colori, il display da 5,5 pollici del Nubia Z11 (risoluzione FullHD e densità di pixel di 403 ppi) è caratterizzato da ampi angoli di lettura: anche se si guarda da posizione molto defilata, è ancora possibile notare i dettagli delle immagini e leggere il testo senza grosse difficoltà. Similarly, the LCD panel with ISP technology performs excellently both when exposed to direct sunlight and when used in low light.
Camera of the Nubia Z11
The photo sensor is one of the most positive notes of the Chinese dual sim smartphone. The Nubia Z11 mounts a Sony IMX298 sensor with f/2 aperture with 16-megapixel resolution and optical stabilizer, "coupled" to a dual-tone LED flash. A hardware endowment of excellent quality, "balanced" by a camera app with advanced features suitable for various purposes and dozens of shooting modes. Scrolling through the app's menu you can choose whether to take a time lapse; shoot in PRO mode and manually set shutter speed, white balance and ISO; or browse through the CAMERA-FAMILY section and choose whether to shoot in "Multiple Exposure" (you take two photos and the device overlays them in post production to create a ghost effect), in "Electronic Aperture" mode (to prioritize the shutter opening and have exposure times of up to 72 seconds) or in "Start track" mode (for nighttime photos of the starry sky).
As you can see in the pictures of our test (click here to access the photo gallery), whichever mode you choose, the photo sensor of the Nubia Z11 will give you a lot of satisfaction. The colors of the photos will always be bright and bright (in some cases, however, may be a bit 'too saturated), the images very detailed and free of significant noise. The situation changes, however, in low light conditions: noise is much more pronounced and you run the risk of losing more than a few details. Il flash a doppia tonalità può aiutare, ma può essere considerato alla stregua di un palliativo e non di una vera e propria soluzione.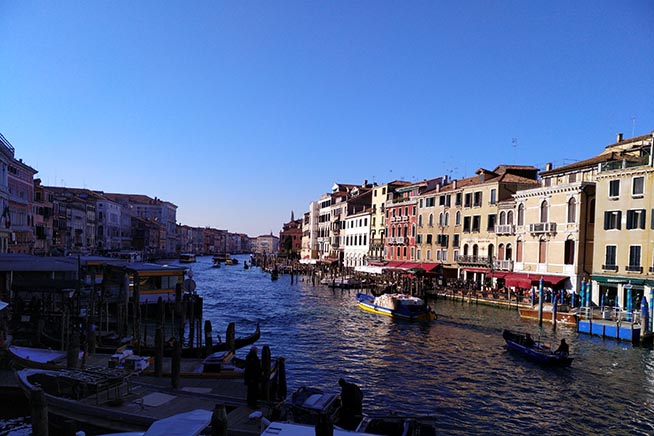 Fonte foto: redazione
Clicca sull'immagine e accedi alla fotogallery per scoprire come si è comportata la fotocamera nella nostra prova
Software del Nubia Z11
L'unica nota dolente – o una delle poche – riguarda la localizzazione del software: le traduzioni in italiano non sono sempre precise (vedi il caso di "FOTOCAMERA-FAMIGLIA") o mancano del tutto. A parte questo particolare, comunque risolvibile, il Nubia Z11 offre agli utenti una piattaforma operativa solida – basata su Android Marshmallow 6.0.1 – e versatile. La ROM – Nubia UI 4.0 – aggiunge diverse funzionalità al sistema operativo del robottino verde, senza però snaturarlo troppo. In this way, even users accustomed to a "pure" version of Android will not have difficulty using the Chinese dual sim smartphone.
In particular, there are two "original" features of the Nubia Z11 that attract the most attention of users: the display edge gestures (the item "Edge Gestures" in the Settings menu) and the dual window mode. In the first case, the user will be able to activate actions and functions related to the interaction with the edges: you can switch from one application to another by touching the edges, or adjust volume and brightness with a simple swipe. However, you have to be careful: it may happen that, unintentionally touching the edges of the phone, you end up activating one or more gestures and complicate a bit the experience of using the device. Con la dual window, invece, l'utente potrà aprire contemporaneamente due finestre del drawer (regolandone anche la dimensione) e utilizzare contemporaneamente due applicazioni.
Autonomia del Nubia Z11
Grazie all'ottimizzazione a livello software realizzata dagli sviluppatori Nubia, la batteria da 3.000 mAh del Nubia Z11 è più che sufficiente per arrivare a fine giornata anche con un utilizzo semi-intensivo del dispositivo. La compatibilità con la tecnologia QuickCharge 3.0, inoltre, permette di ricaricare buona parte della batteria nel giro di qualche decina di minuti.
Scheda tecnica e prezzo Nubia Z11
Il prezzo del Nubia Z11 è di 449,00 euro nella versione dark grey, bianco e white gold con 4 gigabyte di RAM e 64 gigabyte di spazio di archiviazione, mentre sale a 549,00 euro nella versione con 6 gigabyte di RAM. Può essere acquistato direttamente dal sito del produttore italiano nubiamobile.it.
Dimensioni e peso: 72.3 x 151.8 x 7.7 mm per 162 g
SoC: Qualcomm Snapdragon 820 MSM8996
GPU: Qualcomm Adreno 530
Memoria RAM: 4 GB
Memoria interna: 64 GB espandibile con microSD fino a 256 gigabyte
Display: 5.5 pollici, IPS, 1080 x 1920 pixel
Fotocamera: 16MP + 8MP
Batteria: 3000 mAh
Sistema operativo: Android 6.0.1 Marshmallow con Nubia UI 4.0
Wi-Fi: a, b, g, n, n 5GHz, ac
Navigazione: GPS, A-GPS, GLONASS, BeiDou
Voto e conclusioni
Il Nubia Z11, con le sue caratteristiche da top di gamma e prezzo al di sotto della media, rientra a pieno nella categoria dei cosiddetti flagship killer. Si tratta, dunque, di uno smartphone dalle ottime performance e dal costo particolarmente interessante.
Se siete alla ricerca di un dispositivo che vi permetta di cavarvela alla grande nella quotidianità e possa regalarvi qualche soddisfazione anche con le app più pesanti ed esigenti (come alcuni videogame), lo smartphone cinese low cost potrebbe essere la vostra scelta ideale.
Pro: Design e qualità del display; Fotografia diurna; Performance nell'utilizzo quotidiano
Contro: Gli scatti in condizioni di scarsa luminosità (in notturna); Localizzazione in italiano del software; Alcuni piccoli bug ancora da risolvere
Voto: 8/10