Perfect reproductions of the spaceships of George Lucas' saga, Star Wars drones are designed by Propel to ensure maximum realism
Propel - one of the leading British manufacturers and retailers of hi-tech products - has cleverly chosen the Christmas period and the release in Italian cinemas of Star Wars - Rogue One, the long-awaited spin-off of the saga, to launch its collection of themed toy-drones.
The British company did not miss the opportunity to land its first three official models of Battle Drones in Italy. They are, specifically, the iconic T-65 X-Wing StarFighter of the Rebel Alliance, the menacing Darth Vader's Tie Advanced X1 and the Speeder Bike coming directly from the wooded moon of Endor in "Star Wars VI: Return of the Jedi" with a miniature Empire Scout Trooper in tow. Si tratta solo di una "special edition" dei primi tre esemplari di una collezione più ampia, un piccolo assaggio della collezione che sarà in vendita per gli appassionati il prossimo anno.
Droni Star Wars identici alle navicelle del film
Il design e le caratteristiche di questi tre droni Star Wars di Propel sono studiati nei minimi dettagli. I droni, innanzitutto, sono numerati e rifiniti a mano, stanno in un palmo di mano, e riproducono in maniera estremamente curata anche nei più piccoli aspetti alcune delle più famose astronavi dei film di George Lucas. La tecnologia fa il resto regalando una sensibilità in grado di permettere diverse tipologie di gioco e di volo. Qualche esempio? I droni Star Wars di Propel sono in grado di raggiungere i 50 km/h in meno di tre secondi e di eseguire manovre acrobatiche che imitano alcuni dei più famosi schemi di scontro della saga cinematografica.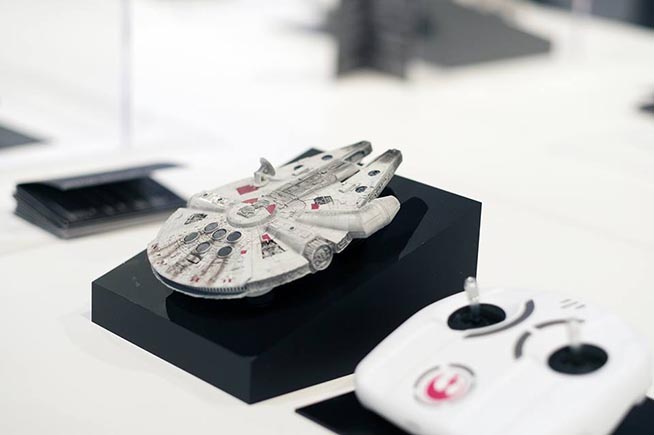 Fonte foto: Propel
Uno dei droni Star Wars di Propel
Dove comprare i droni Star Wars
Ogni modello di droni Star Wars è poi dotato di luci laser ad alta precisione e da sensori che segnalano impatti o colpi vincenti al controller nel corso delle battaglie. Propel, inoltre, si è anche impegnata a realizzare una confezione degna di una collezione: sigillata con ceralacca, all'apertura si illumina e riproduce il motivo musicale dell'episodio di Star Wars cui il modello di Battle Drone fa riferimento. I droni Star Wars by Propel sono già in vendita a 269 euro sugli scaffali dei Disney store e delle principali catene di elettronica di consumo, oltre alla possibilità di acquistarli online tramite il sito di Propel.
(video in apertura tratto da YouTube)
Alcuni video presenti in questa sezione sono stati presi da internet, quindi valutati di pubblico dominio. If the subjects present in these videos or the authors have something against the publication, it will be enough to make a removal request sending an email to: [email protected]. We will provide to the cancellation of the video in the shortest time possible.