In contrast to normal televisions, smart TVs are modern devices capable of receiving not only the standard channels, but also other types of multimedia content, connecting to the Internet and allowing the installation of apps that provide various features. On the market you can find many models, that's why before buying it is important to know all the main features of smart TVs.
Each model, in fact, even if made by the same company, is configured in a specific way to offer a different range of services. In contrast to the early models, which were rather limited, albeit advanced compared to traditional TVs, today's smart TVs have such a wide range of features that they have almost no limitations. Before you start shopping, however, you need to better understand all the technical details, to understand which smart TV to buy according to your needs.
The technical characteristics of the smart TV to consider
Among the most important features to analyze there are the specifications related to the screen of the smart TV, taking into account aspects such as display size, integrated technologies, resolution and refresh rate. Obviously, the performance of the processor must also be taken into account, in order to have a high-performance device that is suitable for your needs.
In the same way, it is essential to evaluate the connectivity, from the way it is connected to the home internet network to the solutions provided for associating other devices. In this case, it is essential to find out about the capacity to access the Wi-Fi connection, as well as the possibility of connecting an external device via USB or HDMI ports. Each smart TV also features a TV standard, as well as an operating system, which is necessary for downloading and managing apps that allow access to content provided by the network.
Screen and display
The screens currently available for smart TVs include LCD, LED, OLED and QLED, each of which differs in the type of technology adopted. LCD is an acronym that stands for Liquid Crystal Display and represents liquid crystal displays, based on a three primary color system with cold cathode fluorescent lamp backlighting. Thin and light compared to the old cathode ray tube, these displays are more prone to latency problems and burned pixels, also provide a poor contrast.
An important evolution are the LED screens, or Light Emitting Diode, also characterized by the presence of a backlighting system based on LEDs, which can be with white light or RGB. Compared to LCD monitors for smart TVs, these screens are thinner, and despite the lower power consumption they can show off brighter colors and sharper contrast, offering a more appreciable quality of resolution. OLEDs (Organic Light Emitting Diodes), on the other hand, do not require backlighting, as the pixels themselves are made from organic matter that is illuminated by electrical impulses. These are advanced smart TVs with vibrant colors, but compared to LCD displays, they have a significantly shorter lifespan and are more expensive. Quantum dot display, or Quantum Dot Led, is nothing more than what is known as QLED, or LED screens with a filter made up of nanoparticles of quantum dots between the liquid crystals and the backlight. These smart TVs provide rich and brilliant colors, with detailed and well-defined images.
Resolution
Resolution is also an important smart TV feature, as it determines the quality of the picture. Fortunately, it is a parameter that is not entirely unknown, so getting your bearings is not that difficult. Among the screens, the basic resolution is HD (1280×720 pixels), the minimum standard also referred to as 720p, otherwise the most popular one today is Full HD (1920×1080 pixels), also reported as 1080p, which is essential for watching multimedia content with good definition.
Currently the best smart TVs have an Ultra HD resolution, also referred to as UHD or 4K (3840×2160 pixels), considered the top of the range definition and the one with the ratio between quality and the most correct price, a standard now supported by all major streaming services, programs and video games. Last, but still not very popular due to the unaffordable prices, is the 8K resolution, able to reach 7680×4320 pixels, for a really top quality despite a considerable cost to buy a smart TV Ultra HD 8K.
Refresh rate (Hz)
The term refresh rate indicates the number of times the TV updates the image for each second. It is measured in Hertz and usually comes in two formats, 60Hz and 120Hz. What is the difference? Mainly flicker, in fact the higher the frequency the less this disturbance will be, so with a 120 Hz TV you can see sharper and more detailed moving images. Obviously, to enjoy a high refresh rate you need to have sources that transmit at such frequencies, such as top-of-the-line Blu-Ray players and the latest generation of consoles.
Processor
Among the smart TV features to consider before buying the device is also the processor. A powerful and well-configured hardware allows you to enjoy superior performance, for example, with faster loading of content, fast multitasking execution of applications or support for complex games. In addition, if the smart TV is equipped with multi-screen functions, it will be able to perform multiple operations simultaneously, reducing annoying lag problems.
Connectivity
To buy the right smart TV, choosing a model that suits your needs, it is essential to check the connectivity of the device. First of all, it is necessary the presence of a Wi-Fi module to connect the TV to the home network in wireless mode, possibly updated with the Wi-Fi 6 standard. The wireless connection is more practical, but with the Ethernet cable you can get better performance, for example by exploiting the full potential of a fiber optic FTTH network capable of reaching up to 1 Gigabit/s. Bluetooth connectivity is also worth considering, as it can be used to connect devices such as smart speakers, mice and wireless keyboards.
Inputs
Connectivity depends not only on the integrated technologies, but also on the inputs of the smart TV. Through the HDMI and USB ports you can connect various external devices to the smart TV via special cables, from consoles to DVD and Blu-Ray players, and even memory sticks. In this case it is important to check the standards of the inputs, which must never be too far back, otherwise you risk obtaining inadequate performance and less than the potential of the devices and the smart TV. As far as HDMI is concerned, since 2013 there is the 2.0 standard, capable of supporting the playback of 4K Ultra HD video, guaranteeing higher audio and video performance than HDMI 1.4.
Standard TV
The smart TV can be used for many different purposes, as a monitor for the gaming console to the viewing of multimedia content from apps such as Netflix and Amazon Prime Video. However, these devices also allow you to watch classic TV channels, which are now available through the digital terrestrial signal, so it is important to check the TV standards of the tuner. For digital terrestrial, the new protocol is DVB-T2, while DVB-T is the older first-generation one. For satellite broadcasts such as Sky, the smart TV must be compatible with the DVB-S2 standard, the new version of the previous DVB-S, which allows you to pick up satellite broadcasts without using a decoder.
Operating system
The operating system depends on the model of smart TV, in fact on the market you can find both proprietary OS and third-party. The most popular is undoubtedly Android TV, a platform connected to all Google applications and its Play Store, present in Sony and Philips models. Samsung's smart TVs, on the other hand, come with the proprietary Tizen OS, or the older Smart Hub version, a rather fast software although it offers less variety than Google's. Other platforms are WebOS of LG smart TVs, compatible with Alexa and Google Assistant voice assistants, or MyHomeScreen proposed on Panasonic smart TVs, responsive and fast but with little personality.
Then there is also the Vidaa U operating system, inserted inside Hisense smart TVs. The choice is of paramount importance, in fact not all operating systems have the same choice of apps, as some developers may choose not to make their app available for less common or more outdated ones. The proprietary OSes of the major manufacturers are usually in the interests of the developers, so if you have particular needs it's worth checking the app's website to see if there's a version for the smart TV you want to buy.
Which smart TV to buy
No doubt choosing which smart TV to buy is not easy, considering the wide range of options on the market. The best solution is to always start with your needs, such as whether you want to use your smart TV to play games by connecting it to your gaming console, to watch mostly streaming movies and TV series in high definition, or to watch live sports content. Ad ogni modo, prima di acquistare il dispositivo è necessario tenere conto di due aspetti principali, il budget a disposizione e le caratteristiche della smart TV.
Migliore smart TV economico: LG 24TN510S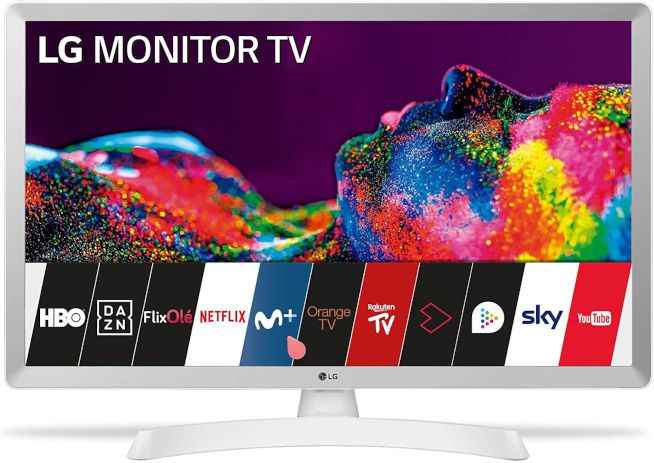 Fonte foto: Amazon
Smart TV LG @Amazon
Un'ottima smart TV economica è il modello LG 24TN510S, un televisore smart da 24 pollici con schermo a LED, risoluzione HD e formato 16:9. Il dispositivo propone la connettività Bluetooth, il modulo Wi-Fi, una porta USB 2.0 e due ingressi HDMI 1.4, dispone degli standard TV DVB-T2 per il digitale terrestre e DVB-S2 per il satellitare, la compatibilità per l'attacco VESA 75×75 cm e la funzione Miracast per l'associazione dello schermo con lo smartphone.
Acquista LG 24TN510S su Amazon.
Migliore smart TV Android TV: Sharp Aquos LC-32Bi6E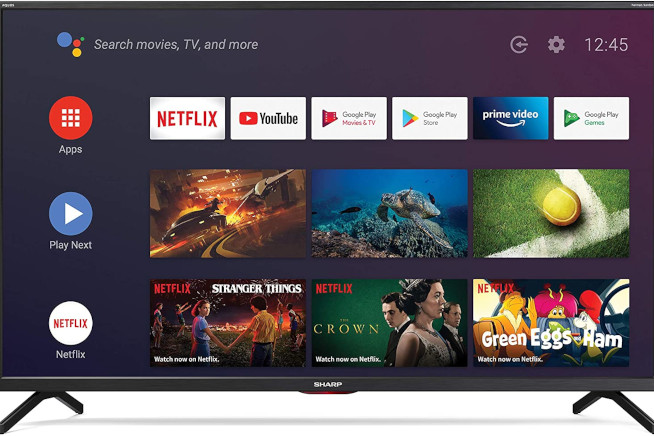 Fonte foto: Amazon
Smart TV Android @Amazon
Per chi vuole acquistare una smart TV con il sistema operativo Android TV, lo Sharp Aquos LC-32Bi6E è senz'altro un eccellente modello da 32 pollici. Offerto con un rapporto qualità-prezzo davvero interessante, il device presenta uno schermo LED con risoluzione HD Ready 1366×768 pixel, il modulo Wi-Fi e gli standard TV DVB-S2/T2. Non mancano 3 porte HDMI e due ingressi USB, la connettività Bluetooth e la predisposizione per l'attacco VESA 20×10 cm, con una classificazione di efficienza energetica A+.
Compra lo Sharp Aquos LC-32Bi6E su Amazon.
Migliore smart TV UHD 4K: Hisense 43AE7000F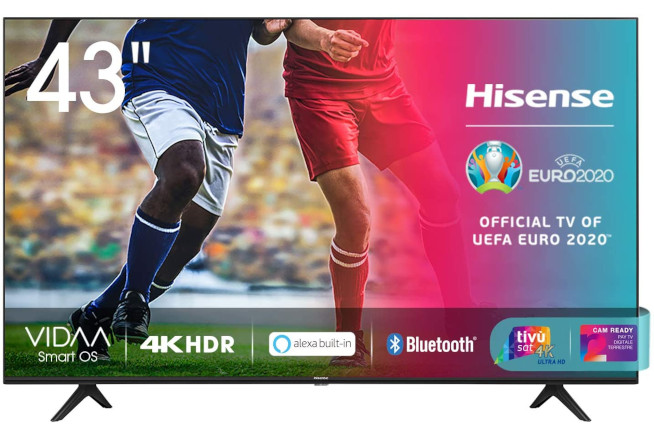 Fonte foto: Amazon
Smart TV UHD 4K @Amazon
Per gli amanti dell'alta risoluzione un prodotto consigliato è l'Hisense 43AE7000F, tra i migliori smart TV 4K in commercio. Si tratta di un televisore LED da 43 pollici, con qualità Ultra HD e HDR10+ per l'ottimizzazione della luminosità nelle immagine dinamiche, con audio Dolby DTS e l'integrazione dell'assistente vocale Alexa. La classe energetica è A+, ci sono gli standard TV DVB-S2 e DVB-T2, inoltre è predisposto con Bluetooth, modulo Wi-Fi integrato, ingresso per il cavo Ethernet, due porte USB e tre ingressi HDMI.
Scopri il prezzo dell'Hisense 43AE7000F su Amazon.
Migliore smart TV Samsung: Crystal UHD 4K TU190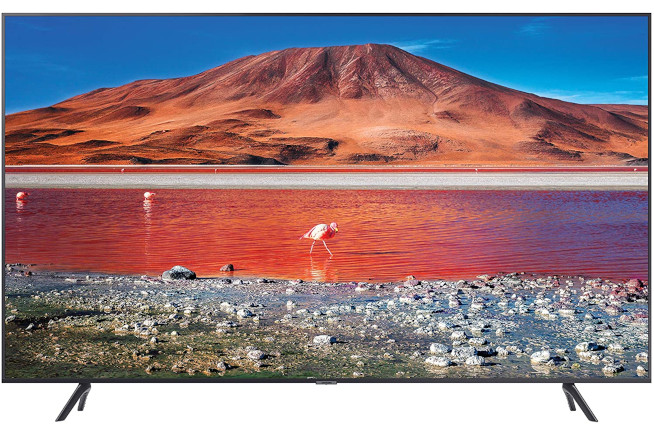 Fonte foto: Amazon
Smart Tv Samsung @Amazon
L'azienda coreana è un punto di riferimento nel settore dei televisori smart, tra cui uno dei modelli più apprezzati è il Samsung Crystal TU190, una smart TV da 43 pollici con risoluzione Ultra UD 4K. L'apparecchio ha una classe energetica A, è compatibile con Alexa e dispone di uno schermo Crystal Display con HDR integrato. Il processore garantisce prestazioni elevate in ogni condizione, assicurando la massima efficienza nella gestione del contrasto e dei colori, in più è possibile associare lo schermo dell'iPhone tramite AirPlay 2 incorporato.
Acquista Samsung Crystal UHD 4K TU190 su Amazon.
Migliore smart TV Full HD: Samsung T5370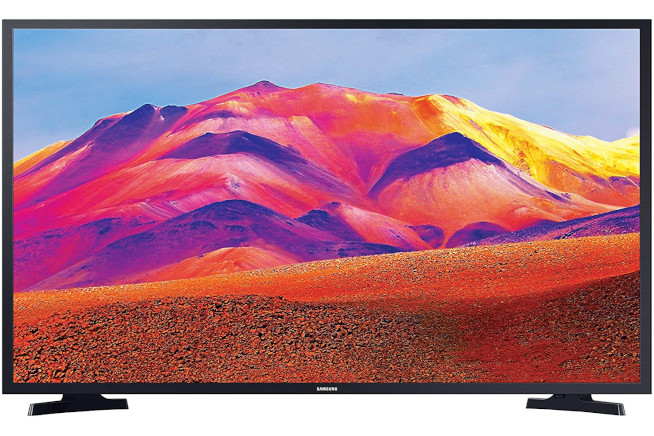 Fonte foto: Amazon
Smart Tv Full HD @Amazon
Le smart TV Full HD sono in grado di offrire un ottimo bilanciamento, fornendo una qualità video elevata ad un prezzo ragionevole. Tra i migliori prodotti c'è il Samsung T5370, equipaggiato con uno schermo da 32 pollici, risoluzione 1080p, HDR integrato per immagini ultra dettagliate e modulo Wi-Fi per il collegamento internet wireless. La casa coreana fornisce anche Alexa incorporata, lo standard DVB-T2 per il digitale terrestre e garantisce una classificazione energetica A+ per contenere i consumi in bolletta.
Compra su Amazon il Samsung T5370.
Migliore smart TV OLED: LG AI ThinQ 65BX6LB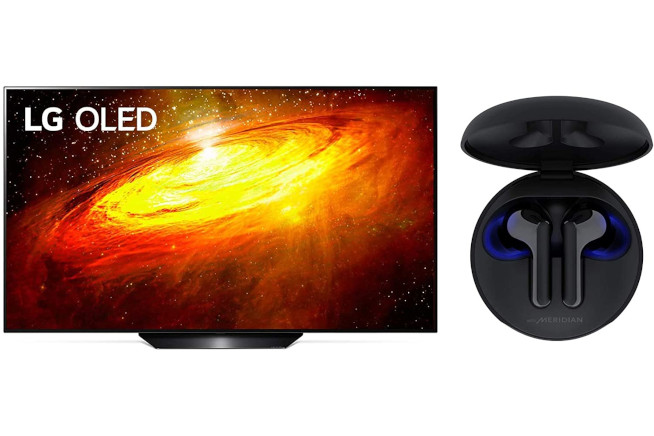 Fonte foto: Amazon
Smart Tv OLED @Amazon
Uno dei prodotti più innovativi in assoluto è l'LG AI ThinQ 65BX6LB, tra i migliori smart TV OLED in commercio in grado di offrire una qualità di risoluzione senza precedenti. Il televisore smart presenta uno schermo da 65 pollici, sebbene sia disponibile anche nella versione da 55 pollici, con una tecnologia OLED con oltre 8 milioni di pixel autoilluminanti. All'interno c'è il nuovo processore α9 di terza generazione, con intelligenza artificiale per potenziare le prestazioni, Dolby Vision IQ e Dolby Atmos per un audio immersivo, Bluetooth 5.0, standard TV DVB-T2 e 4 porte HDMI di cui due aggiornate con la versione 2.1.
Guarda il prezzo dell'LG AI ThinQ 65BX6LB su Amazon.
Migliore smart TV QLED: Samsung QE50Q60T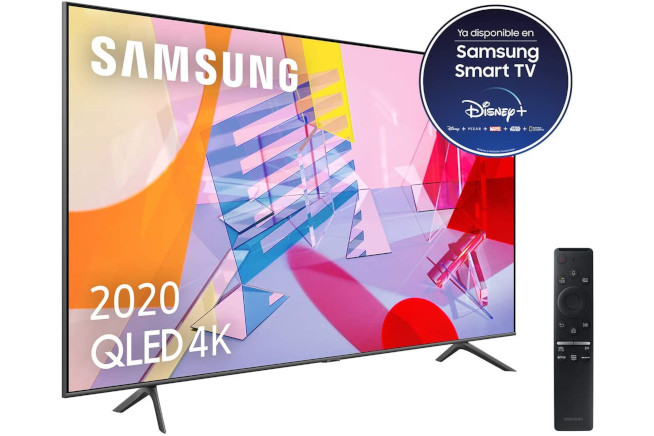 Fonte foto: Amazon
Smart TV QLED @Amazon
La tecnologia QLED assicura una gamma cromatica più ampia, una luminosità eccellente e una maggiore durata, come garantito dal Samsung QE50Q60T. Considerato tra le migliori smart TV QLED di oggi, questo dispositivo supporta la risoluzione Ultra HD 4K, è compatibile con Alexa e dispone del modulo Wi-Fi per il collegamento internet senza cavo. Lo schermo è da 50 pollici, presenta il ricevitore DVB-T2 per il digitale terrestre, il sistema operativo Tizen OS, la connettività Bluetooth e l'ingresso per il cavo Ethernet.
Scopri il Samsung QE50Q60T su Amazon.
Migliore smart TV LED: Philips 58PUS7855/12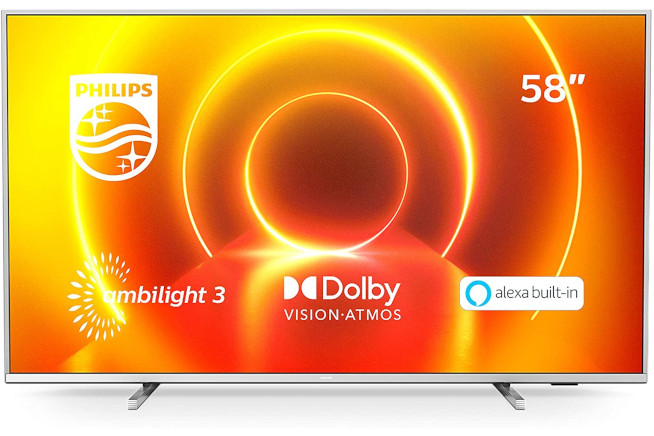 Fonte foto: Amazon
Smart TV LED @Amazon
Una bellissima smart TV LED è il Philips 58PUS7855/12, un televisore smart da 58 pollici con risoluzione UHD 4K e HDR integrato. Il device è equipaggiato con il processore P5 Perfect Picture, propone Alexa nativa e la tecnologia Ambilight per una luminosità coinvolgente. There's no shortage of immersive audio with Dolby Vision and Dolby Atmos, the Saphi operating system to easily manage all apps, with easy access for Netflix and Amazon Prime Video.
You can find the Philips 58PUS7855/12 on Amazon.
Italiaonline features products and services that can be purchased online on Amazon and/or other e-commerce. If you purchase through one of the links on the page, Italiaonline may receive a commission from Amazon or the other e-commerce companies mentioned. The prices and availability of products are not updated in real time and may change over time: it is therefore always necessary to check availability and price on Amazon and / or other e-commerce cited.