3D printing applied to the medical field is not new. Harvard, however, is one step closer to creating fully synthetic organs ready for humans
Harvard University announces the first fully 3D-printed "Organ-On-Chip" with built-in sensors that allow researchers to study the contraction force of heart muscles.
Is this the end of animal testing? Organ-On-Chips - known in scientific circles as microphysiological systems (MPS) - are basically synthetic replacements for the different types of "components" that make up the human body: not just actual organs like, say, kidneys, heart or liver, but also cartilage, bone and other tissues. La scoperta di Harward apre nuove e importanti prospettive per il prossimo futuro, sia per quanto riguarda le modalità di realizzazione e personalizzazione di questo tipo di strumenti, sia per l'acquisizione dei dati da un punto di vista medico-scientifico.
Cuore artificiale che con-batte contro la sperimentazione animale
Lo studio di Harward, pubblicato sulla rivista su Nature Material, spiega nel dettaglio la tecnica impiegata per realizzare questo un cuore su chip tridimensionale e dotato di sensori. Questo cuore artificiale si compone di più parti, ognuna realizzata con tessuti separati e sensori integrati.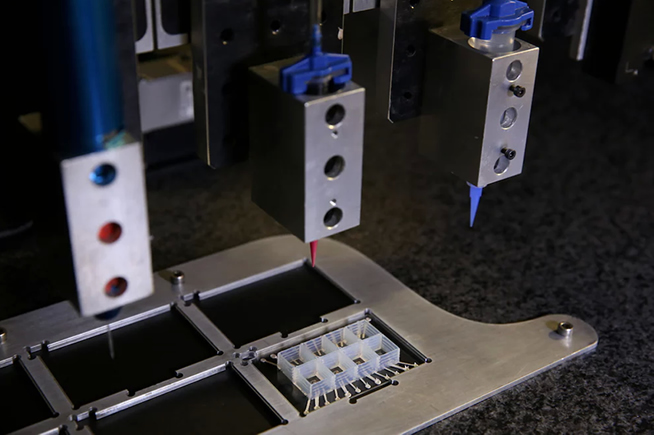 Fonte foto: Harvard University
I sei inchiostri personalizzati vengono utilizzati per stampare i dispositivi 3D in un unico procedimento automatizzato
I ricercatori hanno, quindi, prima sviluppato sei diversi inchiostri per poter inserire i sensori nella microarchitettuta del tessuto e poi sono passati alla fase di stampa 3D dei materiali, in un'unica procedura, nel sistema microfisiologico che simula un cuore su un chip. Questo dispositivo, proprio grazie alla presenza dei sensori, sarà in grado di raccogliere dati per seguire meglio il comportamento del tessuto cardiaco. Tutto senza la tradizionale sperimentazione sugli animali.
(video in apertura tratto da YouTube)
Alcuni video presenti in questa sezione sono stati presi da internet, quindi valutati di pubblico dominio. If the subjects present in these videos or the authors had something against the publication, just make a request for removal by sending an email to: [email protected]. We will provide to the cancellation of the video in the shortest time possible.