The Finnish company has licensed the operating system to a Russian company and soon other countries may follow the Soviet example
Probably only a few will remember Jolla Sailfish, the operating system that Nokia wanted to use to curb the rise of Android. A move that, as we know, did not prove successful. Despite its failure, Russia would be ready to dust off the old mobile operating system.
The Finnish company has in fact confirmed this news, announcing that the Kremlin will officially adopt Sailfish. This means that the Jolla operating system will go to replace the OS produced by American companies in the governmental sphere. The platform, moreover, could also be used on devices from other countries. According to some rumors, Jolla, in fact, would be in talks with South Africa, China and other emerging nations. Questi movimenti, per alcuni versi sorprendenti, in realtà confermano ulteriormente la volontà del blocco sovietico-cinese di distaccarsi dalla tecnologia occidentale.
Anche per questi motivi, la società russa Open Mobile Platform ha ottenuto dall'azienda finlandese la licenza d'uso del suo sistema operativo. In una seconda fase, l'azienda russa creerà anche una comunità di sviluppatori per rendere il sistema operativo ancora più sicuro.
No alla tecnologia americana
La paura che il blocco occidentale possa sfruttare la tecnologia americana per infiltrarsi nei sistemi suoi sistemi informatici, ha spinto la Russia a prendere in considerazione tecnologie alternative.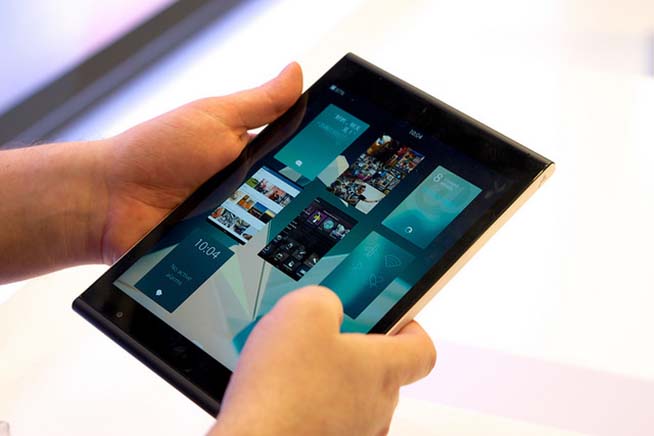 Fonte foto: Karlis Dambrans/Flickr
Un tablet con Jolla Sailfish
L'anno scorso, infatti, alcuni giornali riportarono l'intenzione del Cremlino di sostituire i processori prodotti da Intel e AMD con quelli realizzati da un'azienda locale. La Russia non è sola, sulla stessa linea anche la Cina che da tempo cerca di ridurre la dipendenza da Windows, iOS e Android. Entrambe le superpotenze hanno bloccato, inoltre, l'acquisto di computer che girano con i sistemi operativi di Redmond e Apple. Il motivo di queste scelte è abbastanza semplice: i due paesi temono di essere sorvegliati.