Uber launches into on-demand home meal delivery service for Milan's food lover appetite. With no minimum order and delivery costs
Uber, having abandoned its private car transport service in Italy, is turning over a new leaf and is preparing to inaugurate a new home meal delivery service through a special application: with just a touch you can receive your favorite dishes with no minimum order and delivery costs.
UberEATS, already present in numerous other cities around the world, chooses the city of Milan to launch its new food delivery service in Italy. Ravioleria Sarpi, Ghe Sem, Maido, Let's Wok (for Asian cuisine), God Save The Food, Trattoria della Pesa (for traditional cuisine), Fatto Bene, Hambistro, Macinata (for hamburger lovers), Mantra Raw Vegan, 3wRAW (for healthy and vegetarian cuisine), La Martesana and Le Vrai (for bakery) are just some of the over 100 UberEATS partners from which it is already possible to order great meals relying on the Uber platform for delivery.
Food "just a click away" 7 days a week
Everything works via a special app - available for both Android and iOS - or through the www.ubereats.com portal. The choice offers a wide selection of restaurants that can satisfy every kind of palate: from purists of traditional Italian cuisine, or healthy and vegan cuisine, to lovers of street food. Che si tratti di una riunione di lavoro in ufficio o di un momento di relax a casa.
Come funziona UberEATS
La soluzione più comoda e immediata è effettuare l'ordine dallo smartphone o tablet. Basta scaricare, quindi, l'app UberEATS da iTunes o Google Play, accedere usando le credenziali del proprio account Uber – o crearne uno nuovo – indicare il luogo della consegna e gli estremi della carta di credito per poi procedere con la selezione di un ristorante, o cercare il tipo di cucina preferita dall'apposito menu, e ordinare i piatti che stuzzicano maggiormente il proprio palato. UberEATS promette tempi di consegna medi di 34 minuti calcolati sulla base dell'esperienza nelle 44 città dei 13 Paesi dove è già attivo il servizio. E per ingannare l'attesa, è possibile – come tutti i corrieri che si rispettano – anche seguire il tracking della leccornia in arrivo. Il resoconto dell'ordine verrà inviato all'indirizzo email associato all'account Uber, mentre la ricevuta sarà presente sulla busta consegnata.
Vantaggi per tutti: clienti, ristoranti e corrieri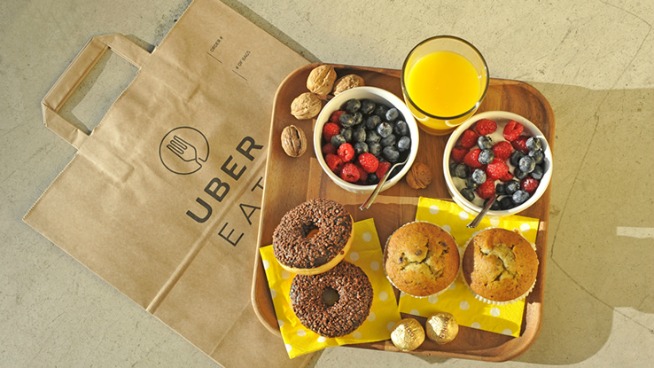 Fonte foto: Comunicato stampa
Uber EATS
Il servizio di food delivery firmato Uber, come accennato, è già presente in 44 città di 13 Paesi. Milano è la quinta "piazza" europea, dopo Amsterdam, Londra, Parigi e Bruxelles. Uber promette vantaggi per tutti. Innanzitutto per i clienti che possono, così, scoprire nuovi piatti e approfittare di quanto la città, in questo caso Milano, è in grado di offrire. But also for the restaurants that adhere to UberEATS that can reach new customers in their area, and for the couriers - that is, those who decide to make deliveries - who have the opportunity to round out their earnings in accordance with their availability and any other commitments.
Promoted delicacies
Until next November 9, moreover, both from the app and the website, it is possible to order the UberMENU specials, a tasty selection that intends to celebrate the typical dishes of the UberEATS partners in a creative and very Uber key. The chefs recommend: UberBURGER (by Fatto Bene), UberPANZEROTTO (by Priscio), UberFISHBURGER (by A'mare) UberLIGHT and UberJUICE (by Mantra Raw Vegan), UberPIZZA (by Briscola), UberFANCYKEBAB (by Mariu), UberINVOLTINO (by Ravioleria Sarpi) or UberYOGURT (by V3raw).
(The video in the opening is taken from the Press Release)
Some of the videos in this section have been taken from the internet, therefore evaluated as being in the public domain. If the subjects present in these videos or the authors have something against the publication, it will be enough to make request of removal sending an email to: [email protected] We will provide to the cancellation of the video in the shortest time possible.