Surfing online without endangering your privacy, exchanging sensitive data securely with colleagues, bypassing censorship on a geographical basis or using public Wi-Fi with peace of mind: these are just some of the advantages offered by a VPN (Virtual Private Network).
Virtual Private Network is a tool that in recent years has become more and more popular also in Italy, since - contrary to what you may think - it is not only suitable for companies or professionals, but can be used by any user for different purposes. Moreover, it's really easy to install and use, so it's accessible even to those who don't have huge IT knowledge. In recent years, also as a result of digitization, the solutions on the market have increased: therefore, before downloading and installing it, it is important to understand what are the characteristics of VPNs and which is the best for your needs.
What is VPN and how it works
In recent years, online fraud, theft of social accounts, bank data or sensitive information, but also the control of users by governments, especially authoritarian ones, have increased. People are more and more careful about viruses and cyber crimes but this is not enough because the scams are more and more sophisticated, real traps in which it is easy to fall. Not to mention the actions of government authorities that can now easily track users. So, in order to surf peacefully, more and more professionals, companies and users are choosing VPN.
VPN stands for Virtual Private Network, a virtual private network that encrypts Internet traffic and protects the user's privacy. This allows everyone to use an app, site or other web service securely, without leaving a trace of their passage. Everything happens thanks to the VPN Tunnel: when you connect from your device, instead of sending the signal directly to the server of the Internet service provider, you pass through an encrypted tunnel. In this way, you are surfing with your IP masked and no one - neither the web service provider nor any malicious person - is able to access the data sent.
VPN paid or free: guide to choice
When choosing the best VPN you must take into account that the market is now wide: within it live free and paid services. Which one should you choose?
We all know that the management of a VPN costs a lot of money, from the server to the constant updating of the software to guarantee a high level of security. So, if you choose a free VPN surely you are paying, not with money, but in another way, that service. To really understand what the price is you need to check the privacy policy. And in those cases you will see that the processing of personal data is not safe, because they are given to third parties, more or less transparently depending on the service. Thus, VPN loses its main feature: protecting people's identity. Not to mention that a free service is slow, lacks specific features and is not very secure, because it is not constantly updated.
On the contrary, a paid VPN is much more secure, always updated so as to properly mask the IP and block any intrusion from the outside. Moreover, it definitely has more features than free and basic services.
There are other considerations to make when choosing a VPN: consider the speed of the connection, the stability of the streaming, the policy related to blocking sensitive data, but also the choice of the country to be located from while surfing the Internet, thus the possibility to access sites and services blocked in a country.
Those who are looking for the best service around can find in NordVPN the perfect tool for their needs.
Why choose NordVPN
NordVPN is the complete platform for those who want to surf the Internet safely and quickly, without leaving a trace. It is characterized by a series of strong points.
The first one is undoubtedly the security: all the information related to the traffic is protected thanks to a new generation encryption. The data is neither traced nor shared even by the company itself. Another strong point is the possibility to use the service on any device and operating system: Windows, macOS, Linux. A single account can be used on 6 devices at the same time.
Those who use the home network, can use the account credentials to connect NordVPN to the router: in this way all devices connected to that network will be protected, from computers, laptops, smartphones, up to video game consoles and smart TVs. Those who want to use NordVPN from mobile can also download the app on Android, iOS and iPadOS.
Multiple VPN connection is indeed essential to protect the user and the whole family. To browse with more security you can then download and add NordVPN extensions for Chrome and Firefox, which are especially useful when the websites you browse are not secure, that is, they do not have the famous Https. The extensions allow you to encrypt traffic, hide your IP address, disable the WebRTC protocol and automatically block intrusive advertisements, as well as sites known to spread malware or phishing (thanks to a feature called CyberSec).
But the reasons to choose NordVPN are not finished. The service has 5000+ servers with excellent performance in 59 countries around the world. Why is it important to have an extensive network of servers at your disposal? Because the more servers there are, the greater the opportunities for users, connection stability and speed. The platform uses 10Gbps servers, which ensure higher performance in terms of browsing and data transfer (download and upload). AV-Test.org rated NordVPN as the fastest in the world. Not to mention that, having servers seeded in every corner of the world, the user can choose from where to "appear connected" and thus make the best use of all the channel's features, which are really disparate.
In addition to surfing safely and without leaving a trace, you can use NordVPN to access streaming services from anywhere in the world. If, for example, you want to watch Italian TV abroad, all you have to do is connect to one of the many Italian servers and then tune in to the desired channel.
The same goes for live events: you choose the server located in the country that broadcasts them and connect to the desired streaming platform to watch a show, a program or even a soccer match. This feature is particularly useful for Italian fans abroad who want to watch the Euro 2020 matches broadcast in our country. The same goes for services like Netflix or Disney+.
But NordVPN can also be useful for those who work in areas of the world characterized by totalitarian regimes and want to surf without restrictions, reaching even obscured sites. In short, NordVPN's features are the most diverse.
The icing on the cake? You can use them quickly and easily, with just one click. But to elaborate more on this point, let's see how to use NordVPN.
How to use NordVPN
Accessing the service is really simple, you don't have to be a computer wizard but simply have a device and a connection.
To start, you need to choose your pricing plan. After choosing the tariff, just click on it. It will open a form that you need to fill in with your data. La piattaforma accetta tanti metodi di pagamento: dalla carta, alle criptovalute, passando per Apple Pay, Google Pay, AmazonPay, PayPal e così via.
In seguito, se si utilizza Windows o Mac basta cliccare sul pulsante Scarica presente nel sito di NordVPN. Il sistema inizierà il download dell'applicazione. Dopo che il software è stato scaricato e il computer riavviato, è il momento di aprire finalmente il programma, creare un account oppure loggarsi con le proprie credenziali (nel caso si sia creato precedentemente). Si aprirà, quindi, la piattaforma di NordVPN che chiederà subito di scegliere il Paese del server da cui connettersi. Si può selezionare dalla mappa oppure dalla barra di ricerca: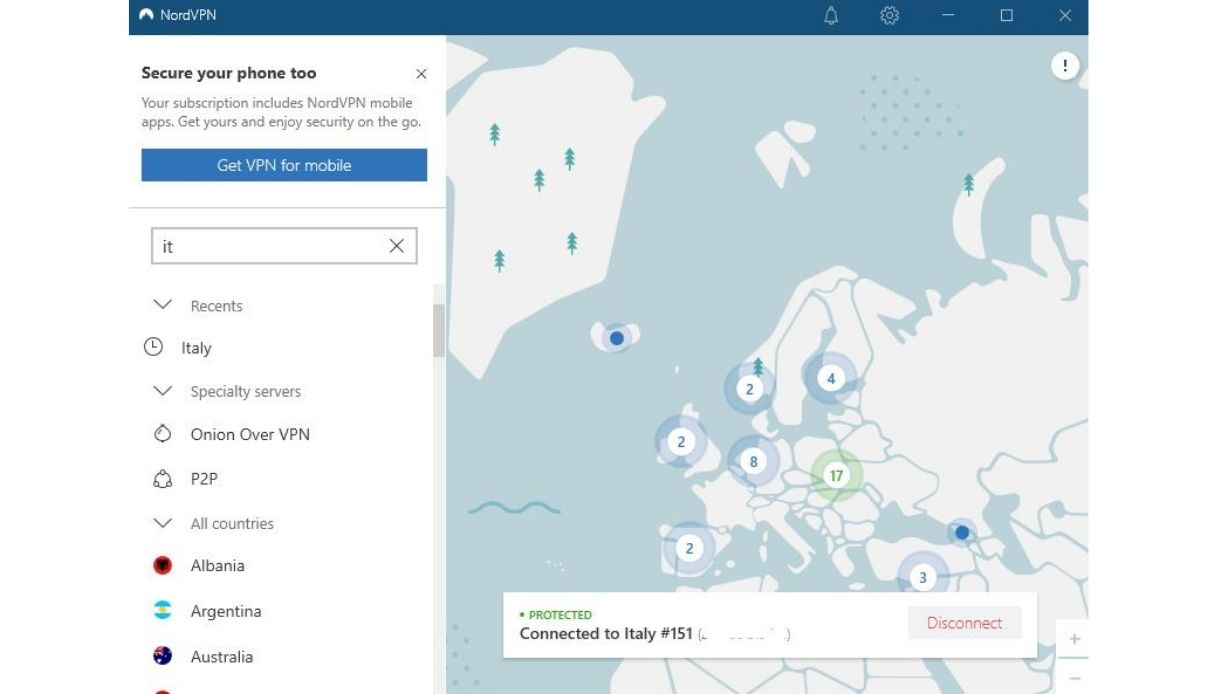 Fonte foto: NordVpn
Dopo essersi connessi al server, questo verrà mostrato nell'interfaccia. Per smettere di usare la VPN è sufficiente cliccare su "Disconnect" e chiudere il programma. For any doubts or requests, NordVPN also offers 24/7 support. All that's left is to try the service.
The platform has launched a new offer on the two-year limited-time plan, which includes a discount and 30-day money-back trial. Try all the benefits of NordVPN now and take advantage of the discount.