After Facebook and Instagram, the instant messaging app will also allow users to download all their data present on the company's servers
With the GDPR now in force, many were waiting for such a feature to make its appearance on WhatsApp as well. All the more so after Instagram had already unveiled it a few weeks ago, while Facebook has been offering it to its users for several years. Insomma, al netto di ritardi e aspettative, ora anche gli utenti WhatsApp potranno scaricare i dati personali salvati sui server dell'azienda californiana.
L'opzione per scaricare i dati personali e foto da WhatsApp è stata introdotta con l'ultimo aggiornamento per iOS (versione 2.18.60), mentre gli utenti Android dovranno ancora attendere qualche giorno (probabilmente, la funzionalità verrà rilasciata prima del 25 maggio, data ultima per ottemperare alle richieste del Regolamento europeo per la protezione dei dati). Così come accade già su Facebook e Instagram, richiedere i dati personali WhatsApp è estremamente semplice: basteranno tre tocchi per inviare la richiesta alla piattaforma di messaggistica e ricevere quanto desiderato.
Come scaricare dati personali e foto da WhatsApp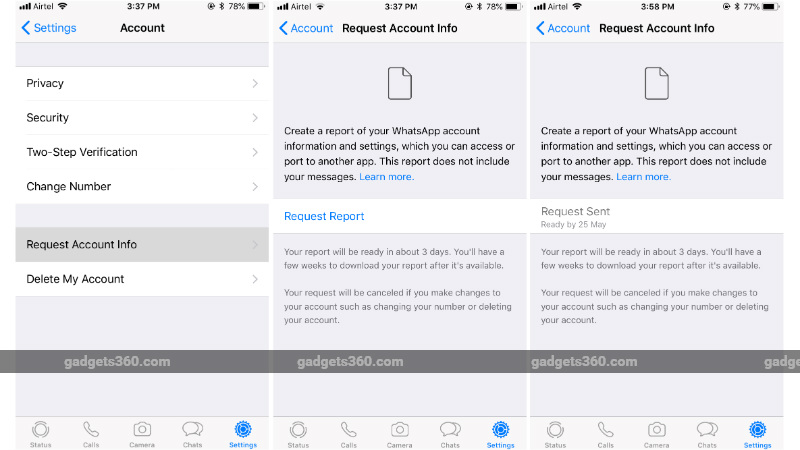 Fonte foto: Gadgets360
Come ottenere i dati personali da WhatsApp
Per richiedere i dati personali a WhatsApp basterà accedere alle Impostazioni dell'app (premendo sull'icona nella parte bassa della schermata per dispositivi iOS, premendo sui tre puntini in verticale in alto a destra su Android), scegliere la voce Account e successivamente Richiedi informazioni account. A questo punto si accederà a una nuova schermata, dalla quale poter far partire la richiesta dei propri dati. Da questo momento, WhatsApp impiegherà sino a 3 giorni per generare l'archivio contenente i nostri dati (chat, foto, video e quant'altro): una volta pronto riceveremo una notifica, così che potremmo scaricarli sul nostro smartphone ed, eventualmente, archiviarli all'interno del nostro cloud storage. Il file sarà disponibile per il download per alcune settimane, ma verrà cancellato immediatamente in caso ci si cancelli da WhatsApp, si cambi numero o smartphone.