WhatsApp has just released new stickers made with the World Health Organization. Here's how they're made and how to use them
WhatsApp doesn't stop and to better address the emergency we are experiencing has just released a little novelty: custom stickers made with the World Health Organization. The name of the sticker pack is evocative: "Together at home". To defeat Covid-19 and decrease the contagion you have to stay at home and also WhatsApp wants to remind us with a new package of stickers.
This is not the only initiative launched by the messaging application together with WHO in this period: the World Health Organization, in fact, has launched an account in Italian where you can find updated information on the epidemic. WhatsApp, invece, sta cercando di essere il più vicino possibile agli utenti: prima ha introdotto dei nuovi strumenti per scovare le fake news legate al Covid-19, poi ha aumentato il limite delle videochiamate fino a 8 partecipanti. L'obiettivo è far restare le persone a casa e comunicare tramite chiamate e videochiamate di gruppo. Per quanto riguarda i nuovi sticker, sono disponibili gratuitamente per tutti gli utenti: il rilascio sta avvenendo in queste ore.
Come utilizzare i nuovi sticker dell'OMS su WhatsApp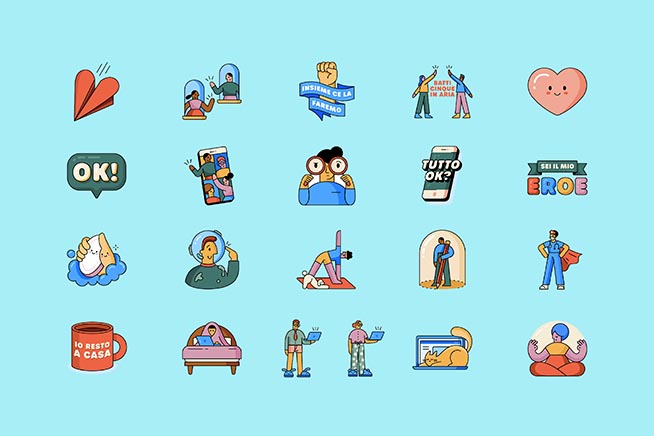 Fonte foto: WhatsApp
I nuovi sticker di WhatsApp
Insieme a casa. Un nome non casuale quello scelto dall'OMS e da WhatsApp per i nuovi sticker pensati appositamente per il periodo che stiamo vivendo. It is a package of about twenty stickers that, as you can see from the image, depict the various moments of the day in time of lockdown.
In addition, there are stickers dedicated to health personnel, put to the test by Covid-19, the importance of washing hands properly, to keep the right distance from others and, finally, the fist with the phrase "Together we will make it".
The new package of stickers is being released worldwide and you can find it within the library on WhatsApp. To do this you have to open the application, enter a conversation, press on the space to enter a message and in the keyboard select the stickers icon. At this point press the icon with the wheel and enter the Browse section: here you will find the "Together we will make it" sticker pack.
The stickers are available in nine languages: Arabic, French, German, Indonesian, Italian, Portuguese, Russian, Spanish and Turkish.