The foot is warmed thanks to the portion on the toe of the insole that gives off heat, but the goal is to maintain the correct thermal comfort of the foot
Many people suffer from the cold. We can cover up whenever we want, there will always be one part of the body that suffers from the chill: and that's the feet. There is a reason. The body, when it is very cold, in order to maintain a constant body temperature, reduces the flow of blood to the feet so that the heart and brain maintain the right temperature for their proper functioning.
Without detracting from the importance of the heart and brain, having frozen feet is not a good feeling. Insoles that warm this part of the body are nothing new, but the goal of the smart +Winter insoles is not just to simply warm the feet, but more importantly to provide them with the right thermal comfort. Un concetto che si traduce tramite una serie di funzioni e opzioni. Una volta raggiunta la temperatura desiderata, il riscaldamento si interrompe per poi ricominciare in automatico, e in maniera intelligente, quando si scende sotto una certa soglia di calore.
Si adatta a quasi tutte le scarpe a suola rigida
Le solette +Winter sono, innanzitutto, molto sottili – solo 2,2mm in punta e 6,2mm nella zona del tallone (dove risiede la batteria) per un peso di pesa solo 56 grammi – quindi non arrecano alcun fastidio. Questo dettaglio consente alla soletta di adattarsi a quasi tutti i tipi di scarpa a suola rigida, tra cui stivali, e scarponi da sci e snowboard. Infine, a seconda della temperatura impostata dall'applicazione gratuita in dotazione, la batteria può funzionare dalle 4 alle 5 ore.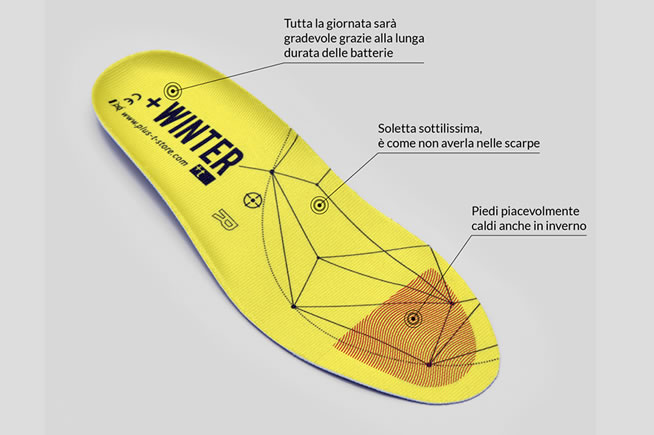 Fonte foto: PLUS-T
La soletta +Winter nel dettaglio
Ricarica a induzione
Sì, perché le solette sono gestite tramite un'apposita applicazione – disponibile per iOS e Android – installata sullo smartphone. La comunicazione tra la soletta +Winter e l'app proprietaria PLUS-T avviene via Bluetooth 4.0. L'applicazione consente di impostare la temperatura desiderata e controllare lo stato di carica delle batterie. I sensori di temperatura nella zona del puntale e nella parte centrale della solétta dialogano con un microprocessore che ottimizza l'erogazione del calore e il consumo della batteria. Niente cavi "tra i piedi" per la ricarica perché le solette +Winter sono compatibili con i caricabatterie a induzione (standard Qi) comunemente usati per i cellulari e direttamente collegabili a una sorgente di alimentazione a 5V oppure a una presa USB. Per ricaricare +Winter occorre mantenere una distanza massima di circa 4-5 mm fra la soletta e il caricatore.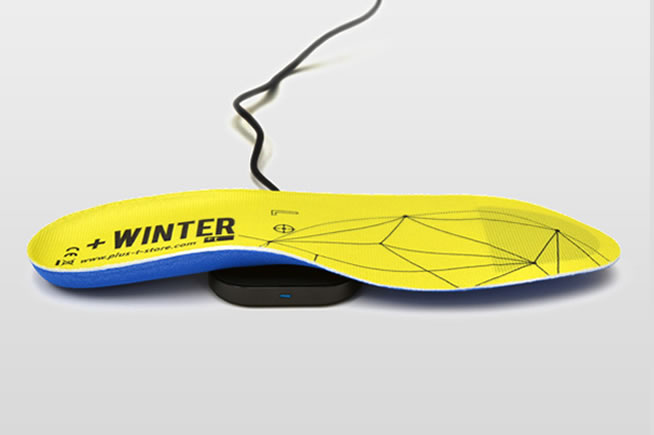 Fonte foto: PLUS-T
Le solette +Winter sono compatibili con i caricabatterie a induzione (standard Qi) comunemente usati per i cellulari
Dove, quanto e quando?
Le solette sono già in commercio in Europa e sono andate letteralmente a ruba: una coppia solette +Winter e il caricatore erano vendute al prezzo speciale di 139.00 euro (invece di 159 euro). Attualmente sono in preordine, sempre in offerta speciale a 129 euro, ma con ben due caricatori (oltre al paio di solette). The bad news is that deliveries will begin between November and December this year. At this point you may wonder why the fundraising campaign on Kickstarter. The PLUS-T company, in this way, is trying to expand and start selling in the United States as well.