ZTE presents a smartphone that can be truly revolutionary: it has two screens, folds and can assume different positions. In Italy from 2018
In recent months there has been much talk about smartphones with foldable screens and the work of companies like Samsung and LG on this type of display. In a surprise blow, however, the first company to present a foldable smartphone was ZTE.
With an event held in New York, the Chinese company took the veils off the ZTE Axon M (Multy), a smartphone that folds, but does not have a flexible screen. How is this possible? Many simply the smartphone is composed of two screens that are connected by a hinge that allows you to move them at will. For the world of telephony this is a real revolution: it is the first time that a company presents a smartphone "wallet". I dubbi sulla soluzione adottata da ZTE sono tantissimi, ma è sicuramente un dispositivo innovativo in un settore oramai ingessato.
In molti avevano riposto la speranza sui nuovi schermi 18:9 e sul design bezel-less, ma in breve tempo tutte le aziende si sono omologate sullo stesso stile, vanificando l'effetto sorpresa iniziale. Lo smartphone a portafoglio, invece, lascia aperte tante possibilità diverse. ZTE deve lavorare sicuramente sull'ottimizzazione del software e sulle applicazioni, ma intanto l'Axon M è il primo smartphone pieghevole della storia.
Le caratteristiche tecniche dell'Axon M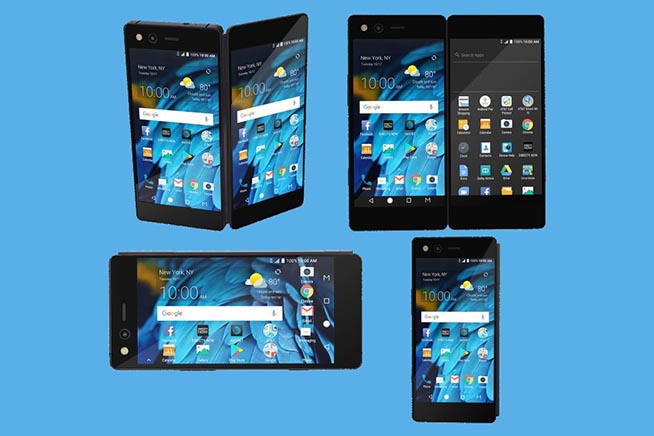 Fonte foto: ZTE
Come utilizzare lo ZTE AXON M
Rispetto ai top di gamma presentati nelle ultime settimane, le caratteristiche dell'Axon M sono quelle di uno smartphone della generazione precedente. On board we find a Qualcomm Snapdragon 821 chipset supported by an Adreno 530 GPU, 4GB of RAM and 64GB of internal storage, expandable with a microSD card. As you can imagine, the dimensions of the ZTE Axon M are not small: 150.8 x 71.6 x 12.1 millimeters. To offer a comparison, all smartphones released in the last period have a thickness that does not exceed 8mm, while the Axon M has it of 12.1mm. The photographic compartment is composed to a single 20-megapixel sensor positioned in the front of the device. This solution was made possible thanks to the foldable nature of the smartphone: selfies and panoramic images can be taken with the same camera, just turn the phone. The focal aperture is 1.8. The battery is 3180mAh and there is also a headphone jack at the top.
Last we left the screen. And the reason is quite logical. The Axon M mounts two 5.2-inch IPS screens with 1920×1080 pixel resolution. As mentioned, the panels are connected to each other by a hinge that allows the user to move the displays as needed. You can use them vertically, horizontally or folded on each other. A solution, that of the foldable smartphone, very interesting, but that will need time to be digested by users. And years of development to refine the design.
Price and release date Axon M
The Axon M will be released in the United States by the holiday season, while for Europe (and therefore also Italy) will have to wait for the first quarter of 2018. As for the price of the foldable smartphone is still all shrouded in mystery.