Un vero toccasana contro lo stress di tutti i giorni. Non stiamo parlando di tisane o di trattamenti rilassanti, ma degli "amici" su cui far affidamento nel momento del bisogno: i videogame. Ogni anno sul Google Play Store compaiono decine di titoli, ma sono pochi quelli che restano installati nello smartphone.
Il 2016 è stato un anno ricco per gli amanti dei videogiochi smartphone: oltre a Pokemon Go, l'app divenuta un vero e proprio caso internazionale con milioni di download in poche settimane, il Google Play Store ha offerto altri titoli degni di nota. Uno dei successi del 2016 è sicuramente Asphalt 8, quanto di meglio ci sia negli arcade racing game, mentre Vanglory, un multiplayer online battle arena, ha offerto un gameplay che a molti ha ricordato giochi del calibro di League of Legend. If you're looking for the video game to install on your Android smartphone, here are the best of 2016.
Pokemon Go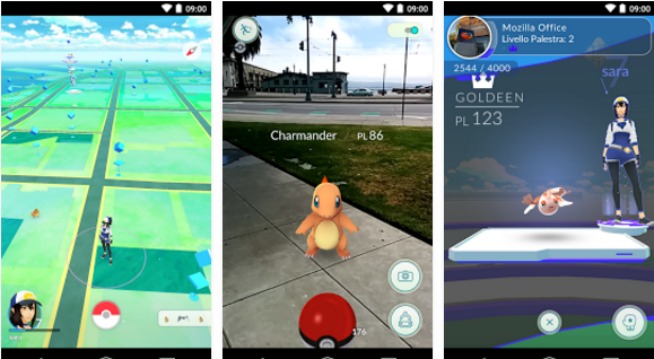 Pokemon Go
Released on July 5 on the Google Play Store in the United States, Australia, New Zealand and subsequently in the rest of the world, Pokemon Go has broken all kinds of records in terms of the number of downloads: in less than twenty days it has exceeded the quota of seventy-five million. The video game available for Android smartphones has sparked a real hunt for Pokemon, with young and old, ready to do anything to capture Venusaur or Dragonite.
Pokemon Go was developed by Nintendo along with Niantic, a U.S. company specializing in developing video games using augmented reality, and allows "trainers" to go around the city to capture pokemon that meet along the way. The application uses the GPS sensor of the smartphone to geolocate the position of the user and show him the animals in the vicinity. After the fifth level it will be possible to choose to be part of one of the three factions (red, blue and yellow) and enter the gyms to fight their pokemon. The gyms, as well as the PokeStops (places where you can collect PokeBalls to use to capture the little animals), are present inside sacred places, historical monuments, stores and museums.
Ancestor
(Taken from YouTube)
Do you feel the lack of a fast-paced puzzle game that at the same time challenges your logical abilities? Ancestor is the one for you. The software house SUPERMEGAQUEST has developed a really fun Android video game that will keep you busy during coffee breaks. You will have to overcome obstacles, solve "puzzles" and challenge opponents, hoping to get to fight against the final boss. The video game is free, but you can make in-app purchases to customize the protagonist with special items.
Vainglory
Twenty-five heroes available, 3 vs 3 fights, possibility to interact with the community through Twitter, Twitch and Reddit: this is the winning recipe of Vainglory, a Multiplayer Online Battle Arena, developed by Super Evil Megacorp and set in the magical world of Halcyon Fold. Each player will be able to build their own three-person team with their friends and go on a quest to conquer the Vain crystal. The application will test the nerves of the players, every single move can be decisive for the final victory. Only the most united teams will be able to destroy the Vain crystal. Winning the fights you'll be able to upgrade your character and become a protagonist in the online challenges. There are different game modes: from the royal battle that lasts seven minutes to the competitive challenge that will keep gamers busy for over twenty-five minutes. For users who are new to the world of MOBAs, the software house has developed a nice tutorial that will allow you to quickly learn the secrets and tricks of Vainglory.
Asphalt 8: Airsborne
While consoles and personal computers were the year of Forza Horizon 3, video games developed for smartphones were the year of Asphalt 8: Airsborne. The game has reached over two hundred million downloads and the compliments of industry critics. The strength of Asphalt has always been the simplicity of the gameplay and the ability to transform yourself for a few minutes in a wizard of the wheel: breathtaking jumps, races decided to the last corner and very challenging tracks. Uno dei punti di forza del racing arcade game è stato sempre il parco auto, e anche Asphalt 8 non tradisce le attese, sono disponibili oltre 140 vetture della più importanti aziende al mondo: Ferrari, Lamborghini, Mercedes, Bugatti, Audi, McLaren. L'applicazione è completa sotto ogni punto di vista: il gamer potrà affrontare più di 400 gare e 1500 eventi Maestria auto, distribuiti su più di 40 circuiti. È disponibile anche una modalità di gioco online che permetterà di sfidare altri giocatori in sfide all'ultima curva.
NBA Live 2016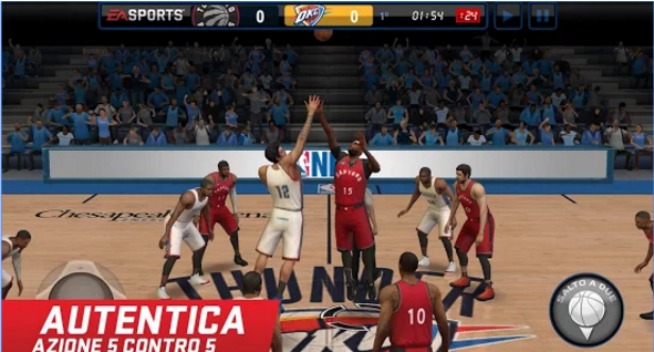 NBA Live 2016
Per gli appassionati di basket il miglior simulatore cestistico presente sul Google Play Store e uno dei migliori videogame Android dell'anno. Il gameplay è piuttosto particolare, ogni gamer dovrà controllare cinque roster, ognuno con una specifica particolarità: A due vie, Piccoli, Lunghi, Tiratori, Difensori. The objective of the game is to win the daily challenges offered by NBA Live 2016 to win packages where you can find stronger players than those available. The basketballs are divided into four categories: Bronze, Silver, Gold and Elite. In addition to completing daily challenges, it will also be possible to play with other players, in exciting eight-minute matches (2 for each quarter). By completing special challenges, you will also be able to win historical players such as Magic Johnson, Shawn Kemp and Gary Payton.
Hearthstone
(Taken from YouTube)
Application available on the Google Play Store since a couple of years, Hearthstone still remains one of the best card video games for Android users. The objective of the video game is to build your own deck of cards, study an attack strategy and challenge other gamers. Per i neofiti del genere è disponibile un Tutorial iniziale che permette di prendere confidenza con le regole del gioco e imparare alcuni trucchi per costruire il proprio mazzo di carte vincente. In poco tempo si diventerà dei veri esperti di magie e si potrà conquistare l'Arena di Hearthstone.
Smash Hit
La grafica sicuramente non è il pezzo forte di Smash Hit, ma in compenso il videogame presenta un gameplay davvero divertente. Videogioco ideale per rilassarsi cinque minuti tra un impegno e l'altro vedrà il gamer impegnato a distruggere i cristalli che gli si presentano lungo la strada. Per farlo ha a disposizione un numero limitato di palline che può collezionare lungo il "viaggio" rompendo dei speciali vetri di colore blu. Ogni volta che si verrà colpiti da un vetro di cristallo si perderanno delle vite (le palline a disposizione) e si continuerà fino a quando non saranno terminate. Un videogame che non presenta sicuramente un'ambientazione spettacolare, ma fondamentale per tutti coloro che vogliono divertirsi per pochi minuti.
Alto's Adventure
Fonte foto: Google Play Store
Alto's Adventure
Un gioco platform molto semplice e praticamente infinito. Alto's Adeventure vedrà il giocatore impegnato in salti mozzafiato su uno snowboard sui pendii delle montagne nella speranza di non cadere giù o di essere sconfitti dagli anziani delle montagne. Lungo il percorso si dovranno salvare lama e cercare di fare grinding sui tetti per guadagnare più punti. Un videogame veramente intuitivo e appassionante.
Modern Combat 5
Modern Combat 5 può essere definito il miglior first person shooter disponibile per smartphone Android senza paura di essere smentiti. The video game has several game modes, both in single player and in online multiplayer: in the first case you can play a campaign that will see the player engaged in foiling the plans of a madman, while in the second you will be part of a team and you will test your guerrilla skills. In the online multiplayer you'll be able to choose between seven different classes: Assault, Heavy, Recon, Sniper, Support, Bounty Hunter or Engineer, for each of which you'll be able to unlock new weapons and upgrade your character. There is also a chat to communicate with your companions and choose the best game strategy.
Sky Force Reloaded
Sky Force Reloaded is a scrolling video game dedicated to combat planes. The user will have to defeat the opponents that appear in front of him until he reaches the final boss. As you level up, you'll be able to use more powerful planes and more easily defeat all those who want to get in your way.
Ultraflow 2
(Taken from YouTube)
Over 180 levels for a puzzle game that will test your concentration and patience. Ultraflow 2 is a game for Android smartphones that blends air field hockey with minigolf: the player will have to get the ball to the final goal using as few shots as possible. The minimalist graphics are the backdrop to a video game that can become a real addiction for fans of the genre. Once you've completed the first 180 levels, you'll be able to unlock another 180 by purchasing them directly from within the application.
Chameleon Run
How complicated can it be to jump and change colors at the same time? It may seem like a meaningless question, but by trying Chameleon Run you will understand the meaning. The video game presents a very simple gameplay: the player will have to run and jump over colored constructions. In order not to lose the challenge, he will have to change his color each time according to the color of the construction.
Some of the videos in this section have been taken from the internet, so they are considered to be in the public domain. If the subjects present in these videos or the authors have something against the publication, it will be enough to make a removal request sending an email to: [email protected] We will provide to the cancellation of the video in the shortest time possible.