Google Pixel and Pixel XL are high-end smartphones made in collaboration with HTC. Still no reliable news on their arrival in Italy
Everything went smoothly as expected: confirmed most of the rumors circulated in recent months on the two new jewels of the Mountain View giant. Although there have been many surprises, especially on the side of applications and design made with great attention to detail.
So, at first glance, Google Pixel and Pixel XL seem the same smartphone model except for the size of the AMOLED screen respectively 5 and 5.5 inches Full HD protected by Corning Gorilla Glass 4. The two models, in fact, share most of the software and hardware features if you exclude the battery (2770 mAh for the Pixel and 3450 mAh for its big brother). Google also presents a fast charging system that can extend the use of smartphones by 7 hours with just 15 minutes of charging thanks to the presence of a USB type C connector.
Google bets everything on Artificial Intelligence
"The world is moving from mobile to artificial intelligence." These are the first words uttered by Sundar Pichai - CEO of Google - at one of the most anticipated press conferences of the Mountain View giant held in San Francisco last October 4. On board the Pixel and Pixel XL by default there is, in fact, also a smart digital assistant - already "tested" in Google Allo- able, not only to perform all the functions of Google Now that is retiring, but designed to learn to know us better and better and continuously learn new things with the passage of time. This intelligent assistant, just to give an example, is able to interact in an Allo chat, even a group one, as if you were talking to a "friend". He will intervene, when called upon, to provide useful suggestions on the best restaurants in the area or information on movies playing nearby. But that's just the beginning because the digital assistant will be integrated into all devices developed by Google, such as Google Home, the new home device designed to provide help, advice and assistance through personalized services.
(taken from YouTube)
Top camera and unlimited storage via cloud
Another strong point of the new Pixel and Pixel XL smartphones is, without a doubt, the dual camera that, during the presentation, was defined as "the best currently on the market" by virtue of the tests carried out by the specialized site DxOMark Mobile that gave it a very high score: 89 out of 100 (Galaxy S7 is stopped at 88, while iPhone 7 at 86). La fotocamera principale è dotata di un sensore da 12,3 MPixel (Sony Exmor IMX378) con pixel della grandezza di 1,55 micrometri, abbinato a un obiettivo con apertura f/2.0, uno stabilizzatore d'immagine, autofocus laser e flash LED. La fotocamera secondaria anteriore è da 8 MP.
La vera novità riguarda, però, la modalità di scatto. La tecnologia HDR+, infatti, invece di catturare un'immagine tramite una sola esposizione, ne scatta diverse molto brevi. Si occupa poi il software di combinarle pixel per pixel con lo scopo di ridurre il rumore e di ampliare la gamma dinamica. Il risultato? Assicurare foto perfette, sempre stando alla valutazione di DXoMark, in ogni condizione di luce. Google Pixel, e ovviamente anche la fotocamera, sono perfettamente integrati con Google Foto, il servizio cloud che offre spazio di archiviazione illimitato per foto e video che saranno conservati nella risoluzione originale.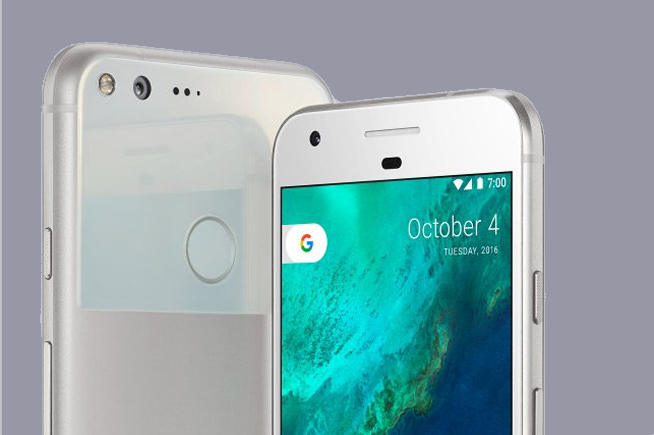 Google Pixel
Hardware, software and design from the top of the class
The Google Pixel and Pixel XL are available in three different colors (black, blue and white) and present themselves with a very linear look with a unibody made entirely of aluminum - with rounded corners and edges and well-defined - which fits into a sheet of glass back that houses the entire photographic compartment and the fingerprint reader. The beating heart of the two smartphones made in Google is the powerful Qualcomm Snapdragon 821 processor "assisted" by 4 GB of Ram, while the internal memory is 32 or 128 GB. Both models, Google points out, have a headphone jack. The Google Pixel and Pixel XL are first two models equipped with Android Nougat 7.1, which brings in dowry, in addition to the intelligent assistant, a new launcher - called Pixel Launcher - enhanced by new gestures and graphics elements, circular icons for applications, the ability to lower the notification curtain with a swipe on the fingerprint reader and much more. Importing contacts and content from "any other operating system", moreover, Google explain, is really a matter of a moment.
A pinch of virtual reality never hurts
Google Pixel and Pixel XL are, finally, compatible with the Daydream visor, evolution of the previous Cardboard, for virtual reality made of microfiber. Just insert your smartphone in the special compartment to watch the world around us enriched with a multitude of information. The sore point is that, as mentioned, Google has not yet announced when these jewels will arrive in our country. It has, however, provided the prices for those who can already pre-order it from the site made ad hoc:
Google Pixel 32 GB:                  $649
Google Pixel 128 GB:                $749
Google Pixel XL 32 GB:            $769
Google Pixel XL 128 GB:           $869
Some of the videos in this section were taken from the internet, therefore rated in the public domain. If the subjects in these videos or the authors have something against the publication, just make a request for removal by sending an email to: [email protected] We will provide to the cancellation of the video in the shortest time possible.