TransferWise, a tech finance company, has launched a new service that allows users to transfer money worldwide via Facebook Messenger
Facebook already allows users to send money domestically via Messenger in the United States. However, London-based TransferWise has developed a special chatbot to extend the service to and from the U.S., Great Britain, Canada, Australia and Europe that also informs about exchange rates.
TransferWise, founded in 2011, is the brainchild of two Estonian entrepreneurs - Taavet Hinrikus and Kristo Käärmann - who were frustrated by the high rates charged by banks and money transfer institutions for international exchanges. L'azienda oggi è valutata oltre 1 miliardo di dollari ed è sostenuta dal fondo di investimenti Andreessen Horowitz, da Richard Branson del gruppo Virgin e dai fondatori di PayPal – Max Levchin e Peter Thiel – tramite il loro fondo Valar Ventures. Facebook aveva aperto la sua applicazione di messaggistica agli sviluppatori nell'aprile scorso per creare proprio chatbot con l'obiettivo di espandere la sua portata nelle transazioni del servizio clienti e aziendali.
Facebook è solo l'inizio
I clienti in più di 50 paesi inviano circa 1 miliardo di dollari ogni mese tramite i servizi di TransferWise. Il chatbot TransferWise è ora disponibile solo in Facebook Messenger, ma potrebbe essere adattato anche per funzionare con altri servizi di chat molto utilizzati, spiega Scott Miller, capo delle partnership globali per TransferWise. Miller ha anche aggiunto che il servizio sarà successivamente esteso anche in altri paesi in opera la tecnofinanza.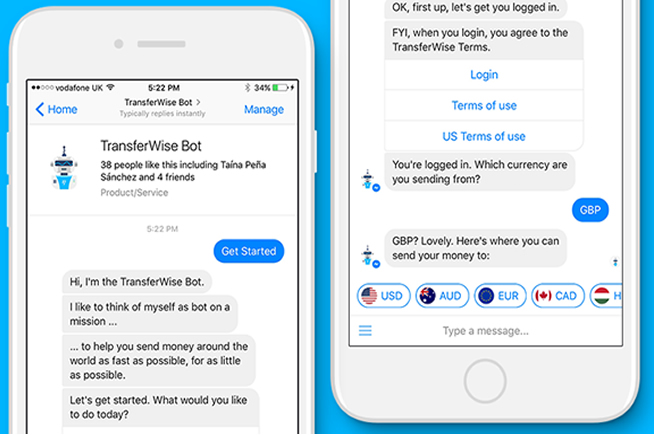 TransferWise Bot in azione
Settore in trasformazione
Questo nuovo servizio di Facebook ha smosso le acque nel settore dei pagamenti tramite dispositivi mobile e in quello dei trasferimenti di denaro a livello internazionale. PayPal, non a caso, ha annunciato all'inizio di febbraio che la sua applicazione Venmo, che funziona solo a livello statunitense sarebbe stata integrata nel popolare servizio di chat Slack. Mentre nel mese di gennaio, Ant Financial Services, affiliata al servizio di e-commerce della cinese Alibaba Group Holding, ha comunicato che avrebbe acquistato MoneyGram – un'azienda specializzata nel trasferimento di denaro negli Stati Uniti – un altro accordo che dovrebbe scuotere il panorama internazionale dei pagamenti.