In the beta version of WhatsApp, a double confirmation has been inserted when sending an image to a person: here's how it works
How many times have you accidentally sent an image on WhatsApp to the wrong person? From today this will no longer be possible, thanks to the new feature that the messaging application has developed. For the moment it is only available in the beta version of WhatsApp, but if it passes the tests it will be released for all users.
The new feature will make very happy distracted users, especially those who talk simultaneously on dozens of chats. But what does the new feature consist of? It is a kind of double control that the user has available when sending an image to a friend on WhatsApp. Oltre alla classica icona con la foto profilo presente nell'angolo in alto a sinistra, ci sarà in basso anche il nome della persona a cui stiamo per inviare il contenuto multimediale, sotto la barra dove poter inserire un breve commento. Non si tratta di una funzionalità che rivoluzionerà l'applicazione social, ma che sicuramente farà felici i tanti utenti distratti di WhatsApp.
WhatsApp, arriva il doppio controllo prima di inviare le immagini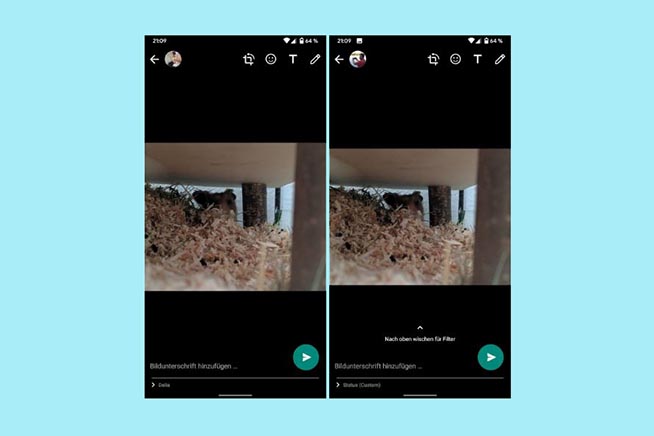 Fonte foto: Web
La nuova funzione di WhatsApp
Può capitare di inviare un messaggio su WhatsApp alla persone sbagliata: tra le tante chat aperte sull'applicazione è facile confondersi. Molto più rischioso è inviare un'immagine o un documento, soprattutto se si tratta di contenuti riservati o di lavoro. For this reason, WhatsApp developers have added a new feature that allows you to do a sort of double check before sending an image to a WhatsApp contact. 
How does it work? Very simple. As you may know, when you choose the media content to share on WhatsApp, a sending mask opens with the selected video or photo and the possibility to add a text. At the top left there is also the icon with the profile photo of the user to whom we are sending the content. With the new feature, there is a double check: in addition to the profile photo, at the bottom there is also the name of the person to whom you are sending the image (as you can see from the picture above). In this way mistaking WhatsApp chat will be really impossible.
When the new WhatsApp feature arrives
For the moment, the new WhatsApp feature is only available in the beta version of the application. If the tests are passed, it will be released for everyone as early as in the next few weeks.