Magic Leap is designing our future. Between gestures, augmented and virtual reality, the American startup wants to change the way we relate to
Interaction with smartphones, tablets and computers is destined to change, and much of the credit is due to Magic Leap, a startup still little known to the general public, but not to those interested in augmented reality and virtual reality.
The headquarters of Magic Leap, as well as its other locations scattered throughout the United States, do not attract much attention from the outside: they look like ordinary, almost anonymous companies. It's inside that you can breathe in the real future: humanoid robots running around the corridors, monstrous green reptiles popping up in the lobby, cartoon fairies turning lights on and off, and war machines over twenty meters tall patrolling the parking lot. Senza contare altre visioni "impossibili" come TV appese ai muri, all'apparenza normali, che un momento dopo compaiono in mezzo alla stanza o lievitano a mezz'aria. La realtà aumentata, "mischiata" con la realtà virtuale, domina la scena.
Il segreto di Magic Leap? Segretezza assoluta!
Con un'introduzione così, sembra di trovarsi a Disneyland, se non fosse che in Magic Leap si tratta di tecnologia reale. Come ogni buon mago, anche il quarantacinquenne Rony Abovitz – CEO di Magic Leap – non svela mai le sue "magie". La segretezza per lui è una politica fondamentale. Solo pochissime persone sono autorizzate a entrare nel suo "laboratorio incantato" e solo dopo essere state sotterrate da una montagna di accordi di non divulgazione su quello che vedono e ascoltano.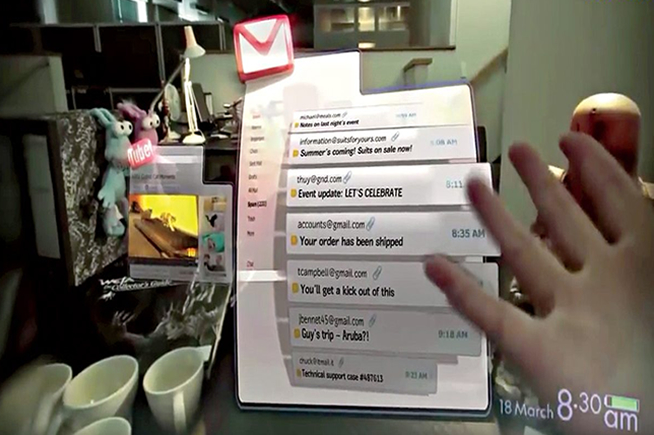 Fonte foto: Magic Leap
La nuova modalità di leggere mail secondo Magic Leap
Investitori incantati da Magic Leap
Eppure, nonostante sembri quasi un'azienda fantasma, i soldi piovono su Magic Leap quasi magicamente. La creatura di Rony Abovitz, fino a oggi, ha raccolto quasi 1.4 miliardi di dollari in venture capital da parte di numerosi investitori di importanza internazionale pronti a scommettere, e a rischiare, su questa startup che vedono come una realtà con di fronte a sé un elevatissimo potenziale di sviluppo. L'ultima valutazione finanziaria di Magic Leap, non a caso, si aggira sui 4.5 miliardi di dollari.
(tratto da Magic Leap)
Tutto è destinato a cambiare: parola di Magic Leap
L'attività di Magic Leap, quindi, è circondata da un alone di mistero che non fa altro che alimentare un turbinio di indiscrezioni e rumors. Ma ci deve essere una spiegazione logica per questa "pioggia" di denaro, giusto? Magic Leap non ha mai, tra l'altro, rilasciato un prodotto. Gli investitori, quindi, sono sicuramente attirati dalla tecnologia sviluppata in gran segreto. Neanche tanto visto il numero di video presenti su YouTube. Magic Leap sostiene che la loro tecnologia è "distruttiva" e che potrebbe annientare il mercato da 120 miliardi di dollari degli schermi piatti e sconvolgere completamente il business da 1 trilione di dollari dell'elettronica di consumo a livello mondiale. Ma come? Buttando via computer, laptop e smartphone, perché sarà tutto integrato in un paio di occhiali a "realtà mista" (che integrano, come accennato, realtà virtuale e realtà aumentata) in grado di far apparire tutto quello che si desidera, dove e quando si vuole. Il risultato è che gli oggetti della "realtà mista" sono consapevoli del loro ambiente e in grado di interagire con il mondo reale.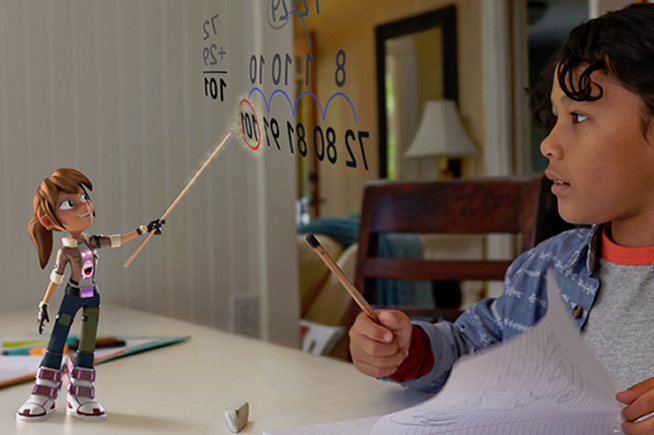 Fonte foto: Magic Leap
Magic Leap può essere utilizzato anche per lezioni virtuali
Non solo divertimento e videogiochi
«Non si tratta di intrattenimento o di un semplice videogame», spiega Thomas Tull, fondatore di Legendary Entertainment, riferendosi all'imminente rivoluzione che sta preparando Magic Leap. E aggiunge che «si tratta di un modo diverso di interagire con il mondo, di una nuova generazione di computer. Penso che [Magic Leap n.d.r.] finirà per diventare un'azienda molto, molto importante.»
(tratto da Magic Leap)
Un esempio? Magic Leap, in una delle sue dimostrazioni, mostra un umanoide virtuale a grandezza naturale generato al computer in maniera incredibilmente realistica. Abovitz e il suo team immaginano persone virtuali (animali o qualsiasi altra creatura) come assistenti digitali di cui è impossibile ignorare la presenza. Just by asking one's "factotum" to deliver a message to a colleague, the assistant physically leaves the office and then reappears next to the person's desk to deliver the message in person. The computing power unleashed by a computer, in a mixed reality, is not limited to a simple gadget on the desk. It's something you can connect to an object, real or virtual, providing it with awareness of its location, intelligence about its purpose, and understanding about how you would want to use it. If Magic Leap succeeds, the near future will be completely virtual.
(opening video taken from YouTube)
Some of the videos in this section were taken from the internet, therefore rated in the public domain. If the subjects present in these videos or the authors had something against the publication, it will be enough to make a request of removal sending a mail to: [email protected]. We will provide to the cancellation of the video in the shortest time possible.