Notebooks, smartphones, tablets, headphones, action cams and tech gadgets, it's impossible to go without a portable battery. Here is Razer Power Bank
An emergency battery has now become a must. On the market you are spoiled for choice, but before making a purchase, analyze your needs well so as not to be disappointed. Especially if you are often away from home with a "minimal" technological baggage that, nowadays, provides more than one portable device.
The Razer Power Bank is a great product. It's a 12,800 mAh portable battery designed primarily for laptops, and specifically, for Razer models and capable of extending the life of a Blade Stealth for at least 15 hours. La presenza di una porta USB-C – con uscita 5–9–12–15V a 3A oppure 20V a 2.25A – lo rende compatibile con tutti i notebook di ultima generazione, persino con gli ultimi modelli di MacBook 12 e MacBook Pro se, ovviamente, non fate caso alla differenza di stile.
Non solo notebook
Il Razer Power Bank, inoltre, è anche dotato due classiche prese USB-A (5–9V 2A e 12V 1.5A) con tecnologia Quick Charge 3.0 per ricaricare smartphone e tablet in mobilità: tutto contemporaneamente. Non male come possibilità. La batteria portatile di Razer, da un punto prettamente tecnico, si presenta con un guscio tutto in metallo con una verniciatura nera opaca, ovviamente in pendant con gli altri prodotti della scuderia. Il Razer Power Bank, a dispetto della potenza che è in grado di erogare è piuttosto compatto: 125,8 x 78,2 x 23,4 centimetri per un peso di 335 grammi. Sarà disponibile a partire dal mese di marzo al prezzo di 169,99 euro.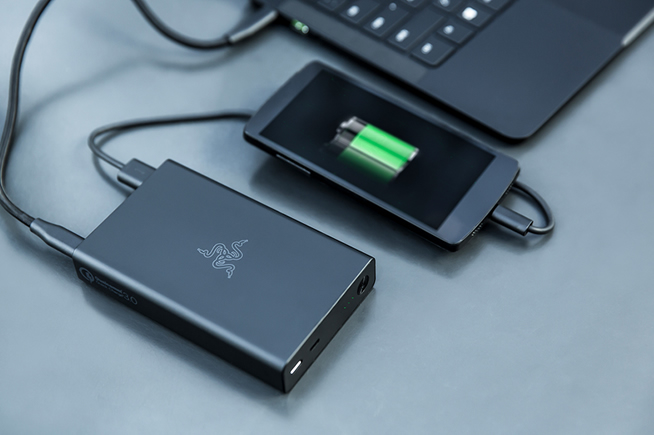 Fonte foto: Razer
Il Razer Power Bank è in grado di ricaricare più dispositivi contemporaneamente