Since 12:40 am on April 14, 2019 WhatsApp is down: Facebook servers are down and do not allow you to send messages, photos and videos. What's happening
WhatsApp is down, again. Exactly one month after the problems of March 13 that had affected all messaging applications, WhatsApp is not working and does not allow you to send and receive messages. The first problems were reported at 12:40 am on April 14 and in a short time the reports have reached huge numbers.
The down of WhatsApp affects the whole world and not just the peninsula: the messaging application is once again the victim of a problem that is putting it to the test. But WhatsApp is not the only application of the Facebook world that is down: they are all the apps of the Menlo Park company that do not work. In addition to WhatsApp, users also report the down of Instagram, Facebook and Facebook Messenger. Per il momento da parte di Facebook non ci sono novità sul perché non funziona, ma la causa potrebbero essere nuovamente i server. Lo staff di WhatsApp è al lavoro per risolvere al più presto il problema.
Perchè WhatsApp non funziona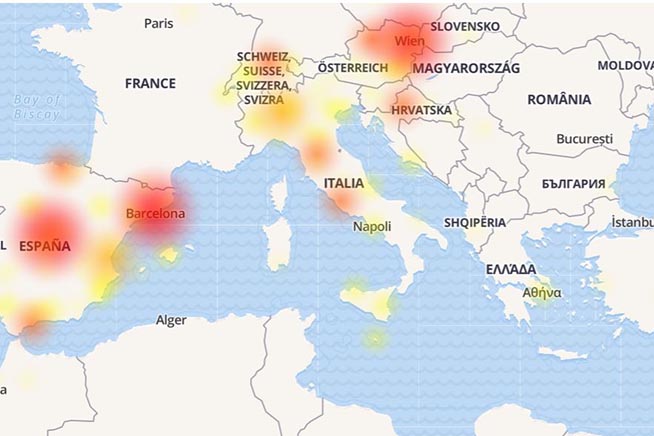 Fonte foto: Redazione
La mappa con i disservizi di WhatsApp
Non si conoscono i motivi del malfunzionamento di WhatsApp: l'azienda di Menlo Park non rilascia nessuna comunicazione ufficiale e sicuramente è al lavoro per risolvere nel minor tempo possibile il disservizio. The cause could be again the tests that Facebook is doing to create a single messaging application with inside the social network, Instagram and WhatsApp.
The most credited hypothesis, given that at the same time there are also Facebook down and Instagram down, it is easy to assume a new technical problem that has affected one of the data center of Mark Zuckerberg's company. On the other hand, however, it must be said that in these same minutes there are many reports from users about problems with the main operators (TIM down, Vodafone down, Fastweb down and Three down), with thousands of reports on their malfunction. For this reason, there is a hypothesis of a problem in some Internet backbone, which has made unreachable both Facebook servers and the web hubs of Italian Internet operators. We will follow the evolution of the situation and keep you updated.
Update 14:30 WhatsApp down
The problems of WhatsApp continue to persist. In many parts of the world the application is still down.
Update 15:00 WhatsApp down
The problem that characterized WhatsApp seems to have been solved: now you can send and receive messages.