The Giallorossi club is meeting the needs of fans with new ways to purchase Passbook and Passwallet, excluding the South Curve
In Rome, soccer is a matter of decibels. From the horns in the traffic jams before and after the games to the exultations, capable of shaking the stadium and entire neighborhoods. For a while now, however, Roma has been playing in a semi-deserted Olimpico. For this reason, the club has decided to simplify ticket sales.
The ticket on the smartphone.
The simplicity of finding coupons for the games is not the main reason for the noticeable drop in the number of spectators at the Olimpico, but the Giallorossi club has decided to meet the needs of fans by allowing the purchase of tickets directly via smartphone. Through the app "Passbook", for iPhone users, or "Passwallet", for Android users, the ticket will be loaded directly on the smartphone. All'ingresso il codice a barre sarà letto dai tornelli direttamente dallo schermo e si avrà il via libera per accedere allo stadio. Una scelta ecologica, volta a evitare lo spreco di carta, oltre che rapida.
Limitazioni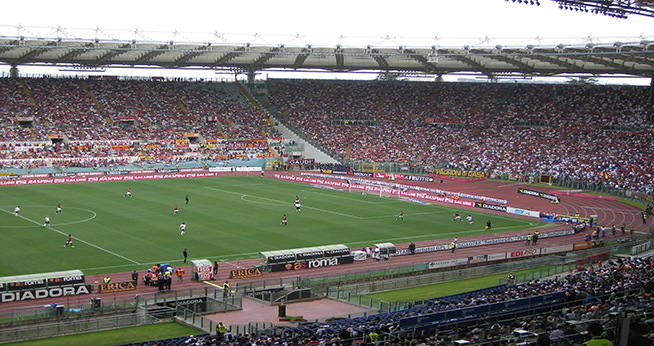 Una veduta dell'Olimpico
Il servizio non eliminerà però l'obbligo del ticket cartaceo in ogni settore dello stadio. Per i tifosi della curva Sud, infatti, sarà necessario esibire il "classico" biglietto. Una scelta della società proprio in risposta alla protesta degli Ultras di quel particolare settore. Protesta che è tra le cause principali della scarsa affluenza. Insomma se da una parte si restringe il divario tecnologico dall'altra sembra allargarsi quello tra la società e i suoi tifosi "storici".
Passwallet e Passbook
L'utilizzo della modalità d'acquisto attraverso Passbook/Passwallet prevede alcune semplici regole. First of all, you must be able to access through your smartphone to your email account. The one indicated during registration. Each title purchased, in fact, we will be delivered as a single attachment in pkpass format. At this point just save the coupon on the application, Passbook if we use an iPhone and Passwallet if we use Android. In case of loss of the email containing the tickets or of error in saving, it will be possible to ask for the re-sending of the email in "your personal page" in the section "my movements" of Listicket.com
.