The company Razer, at the Consumer Electronic Show in Las Vegas, presented its new prototype: it is a laptop with three screens, thick and weighing 12 kilos
"A screen to tame them, a screen to find them, a screen to sneak them...". No, it's not a remake of Lord of the Rings, but the new laptop presented by Razer at the Consumer Electronic Show in Las Vegas. We're talking about the world's first notebook with three screens.
Project Valerie: the PC with three screens. For those who don't know it, Razer is a famous company at CES because every year it usually presents some extravagant and innovative device, prototype or accessory. Especially known for tools designed for gaming and laptops. This year to not disappoint expectations the Californian company has presented in Las Vegas the Project Valerie. It is a portable computer equipped with three screens. All displays are 4K IGZO. This is a prototype and it is not clear if the project will ever see the light of day. The thickness and 12 pounds of weight, in this sense, leave more than one doubt.
Features of the new Razer device
(Taken from YouTube)
The Project Valerie is a solution designed for gamers, editing movies and photos and for those who work with large word formats. The design of the computer is quite minimal and is obviously very thick considering it has to hold three displays. Each 17 inches. The two side screens close and reopen, in front of the middle one, automatically as you turn on the device. The laptop is equipped with an Nvidia GeForce GTX 1080 graphics card. And each of the three displays uses Nvidia's G-sync technology. Of course, it is compatible with different virtual reality viewers. The cooling system is the vapor chamber one also used on another Razer, the Blade Pro. Essendo un prototipo non ci sono specifiche informazioni circa la sua uscita in commercio. Però potremmo ipotizzare un prezzo. Attualmente il Blade Pro si trova in mercato a partire da 3,700 dollari. È probabile, facendo un paragone, che il Project Valerie ne costi almeno seimila. Il ma più grande al suo lancio sul mercato però non è né lo spessore né il peso, ma la batteria. Lo sforzo per i tre schermi consente al laptop un'autonomia bassissima.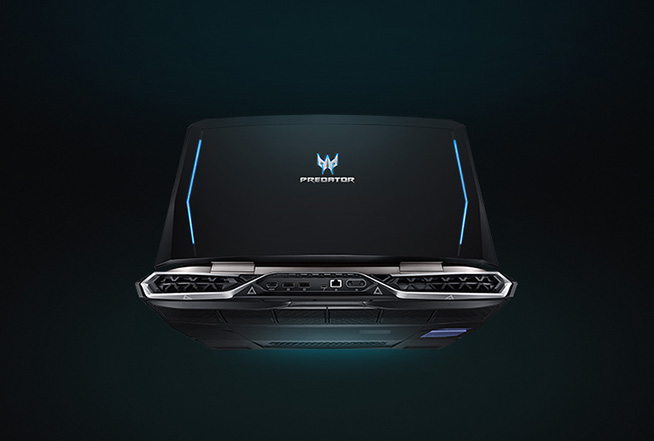 Fonte foto: Acer
Anche Acer ha presentato un laptop unico nel suo genere. Clicca sull'immagine per scoprire il Predator 21 X
Alcuni video presenti in questa sezione sono stati presi da internet, quindi valutati di pubblico dominio. Se i soggetti presenti in questi video o gli autori avessero qualcosa in contrario alla pubblicazione, basterà fare richiesta di rimozione inviando una mail a: [email protected] We will delete the video as soon as possible.
.